The cryptic tweets of an Indian minister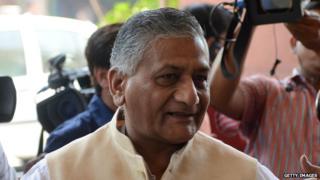 An Indian government minister's cryptic tweets about "duty" and "disgust" have kicked off a huge debate.
It's a party he apparently wasn't very happy to be at. General VK Singh, India's minister of state for external affairs and former army chief, attended an event in Delhi in honour of Pakistan's National Day, and hosted by the Pakistani High Commissioner. But General Singh hinted at his true feelings on Twitter: "#DUTY A task or action that a person is bound to perform for moral or legal reasons," he said in one tweet posted after he left the event on Monday night.
His message was quickly followed by two others: "#DUTY The force that binds one morally or legally to one's obligations" and "#DUTY A job or service allocated."
Then he remarked: "#DISGUST To sicken or fill with loathing" before posting his final tweet: "#DISGUST To offend the moral sense, principles, or taste of."
So was Singh ordered to attend the event, and upset because of it? His tweets contained no direct reference to the event - but his posts which were shared hundreds of times became a hot topic of conversation on Twitter.
"Pic of @Gen_VKSingh, #disgusted at having to share biryani with separatists and Pakistanis, all in the line of #duty," one tweet joked, next to a picture showing the general laughing.
Manish Tewari of the opposition Congress party lashed out at Singh by tweeting that if "Mr#duty#disgust is so disgusted with double standards of his own government on Pakistan, he should quit".
And Pakistani Twitter users also reacted strongly. "What disgusting tweets from @Gen_VKSingh on attending 23rd March dinner at Pak High Comm, Delhi. Ought to be ashamed of himself..." said a tweet.
Singh later posted another tweet suggesting the media was his subject of disgust: "#'Disgust'ed [sic] to see how certain sections of the media are twisting this issue." The tweet was shared by more than a thousand users. He also said that while he was following the protocol of the government by attending the event, it was portrayed by the press as a "nationalistic event".
Some Twitter users came to the defence of the official. "... should carefully read @Gen_VKSingh 's tweets before making such silly comments! VKS disgusted with Media not govt!," read a post.
Blog by Tulika Bhatnagar
Next story: Vietnamese push back on Facebook to save Hanoi's trees
Or maybe you'd like to watch: The comedians who invade your personal space
You can follow BBC Trending on Twitter @BBCtrending, and find us on Facebook. All our stories are at bbc.com/trending.