The viral speech against school grading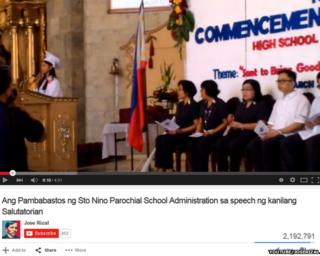 An off-script graduation speech by a Filipina student has become a YouTube hit - and it's opened up a can of worms about grading and competition in schools.
Krisel Mallari, a student at the Sto Niño Parochial School in Quezon City, was speaking at a graduation ceremony as the school's salutatorian - the second-ranked student of the year. However, instead of sticking to the "welcome speech" approved by school authorities, she went on a rant about the school's marking policy and insinuated that she had been cheated out of the top spot.
A four-minute video of the incident uploaded to YouTube has since been watched more than 2 million times.
The school has defended itself, saying that their grading system is computerised and that the process is fair - and the valedictorian denied any wrongdoing. But whether or not this was a case of "sour grapes", hundreds online are showing support for Mallari by quoting the last line of her speech: "I am Krisel Mallari, a Filipino citizen who would rather choose to fail with honour, than win by cheating."
The country's education department has also waded into the controversy and asked the school for an explanation. Their investigation will focus mostly on the issues of transparency about grades raised in the speech. According to the school, Mallari's father asked them to show how her grades were computed, but turned down his request to see those of the valedictorian's, as that would require the permission of her parents.
Online there was intense discussion about whether Mallari chose the right platform to air her grievances. "Respect begets respect. The school doesn't deserve respect and so, it is only just for the student to voice out her idea and grievances," read one comment on YouTube. But another post asked: "She not only humiliated the valedictorian of their class and his or her family, but she also humiliated the school and all the teachers working there. Is not being salutatorian more than enough as an accomplishment?!?"
In a televised interview, the valedictorian asked Mallari to accept that she did not win the top place. "Krisel, I wish that you learn to accept that some things are not meant for you. You should not tarnish the reputation of the school. Many were hurt (by your allegations)," she was quoted as saying.
Blog by Anisa Subedar
Next story: The cryptic tweets of an Indian minister
Or maybe you'd like to watch: The comedians who invade your personal space
You can follow BBC Trending on Twitter @BBCtrending, and find us on Facebook. All our stories are at bbc.com/trending.