The fight to save Polish as an A-level subject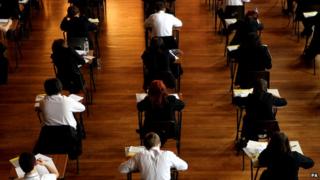 Soon it will not be possible for UK students to do A-levels in the Polish language - leading thousands of Polish residents of the UK to express outrage online.
There are over half a million Polish speakers in the UK, making it the second most reported main language to the 2011 census. Most of these are native speakers, many born in Poland, and relatively few school children study it as a second language. But that hasn't stopped thousands of Poles living in the UK from expressing anger over plans to phase out the Polish A-level exam by 2018. They've gone online to protest in the hope of getting the decision reversed.
At the moment students in England, Wales and Northern Ireland can sit Polish at both GCSE and A-level. Last month, the only examination board which offers Polish-language exams said it would no longer be able to do so at A-level. In response, a petition to keep the Polish exam has been set up by the umbrella group the Polish Education Society, and signed by over 13,000 people.
The Polish Education Society says there are over 25,000 children of Polish origin attending mainstream education in London alone, and says many may wish to study Polish A-level when they get older. They also offer a selection of other statistics to predict the rise in the number of Polish speaking students in the UK in the coming years. Aleksandra Podhorodecka, chair of the Polish Education Society, says the decision to discontinue the A-level poses a problem for the identity of young people of Polish origin in the UK. "Young Poles will become UK citizens. They are a part of British society. Indeed, by being bilingual they can serve the British community," she says. Thousands of Polish-origin children also study the language privately at weekends, according to reports.
But in actual fact, the numbers who actually choose the subject at A-level and sit the exam are very low, the exam board behind the decision, the Assessment and Qualifications Alliance (AQA), told BBC Trending. That, plus a shortage of examiners was the reason behind the move, they say. They are also scrapping A-level Bengali, Modern Hebrew and Punjabi, for similar reasons which include changes to the way the subjects are assessed. "With language A-levels changing to include speaking and listening as well as reading and writing, it'll be extremely difficult to recruit enough examiners in these subjects to cope with the double amount of assessment," an AQA spokesperson told us.
Reporting by Anne-Marie Tomchak and Katarzyna Mastela
Next story: David Cameron's 'thug life' on YouTube
You can follow BBC Trending on Twitter @BBCtrending, and find us on Facebook. All our stories are at bbc.com/trending.