Why is a Chinese takeaway box taking over election talk?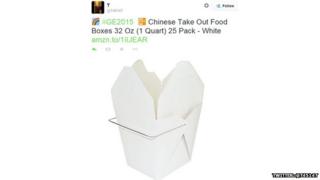 People wanting to follow the general election campaign on Twitter have been using the hashtags #GE2015 and #GE15 but as these have become popular, they've attracted the attention of spam advertisers.
On Thursday, this image of a Chinese takeaway food box was the fourth most tweeted image under #GE2015. Which is somewhat strange because of the seriousness of the tag.
The BBC and other news outlets are using the #GE2015 tag to share their reports, and politicians from all the major parties are using it to highlight coverage which is favourable to them. So, for example, Tristam Hunt used it to announce that Labour would offer guaranteed one-to-one careers advice, and this was re-tweeted around 100 times from different Labour backed accounts. The Conservatives' Dr Liam Fox used it to highlight his comments about Britain's nuclear deterrent Trident, and this was retweeted three times. When the Liberal Democrats used it to promote their latest attack ad, which features Ed Miliband lip-synching along to Elton John, it was shared 14 times under the #GE2015 tag.
But those Twitter numbers are all less than the Chinese takeaway box, at least within the #GE2015 stream. It was shared around 170 times in 24 hours. At one point it was the most popular image of the day yesterday under the #GE2015 tag, but by the afternoon the launch of a new crowd-funded #iamanimigrant posters, a report in the Guardian about polling data and a Plaid Cymru "scrap Trident" poster had pushed it off the top spot.
So what's going on? Dr Aldo Faisal, a Senior Lecturer in Neurotechnology from Imperial College London told BBC Trending that the popularity of the picture was a result of an army of computer programmes called Twitter bots. "You get three types of bots on Twitter," he said "the first type just follow other users and retweet what they say, the second type search news outlets for trending words and retweet what they say, the third type search for trending words and add their own links before tweeting. There are now social media platforms which allow users to run hundreds of Twitter accounts with relative ease."
"The Chinese box is a type three bot, which has then been retweeted and followed by hundreds of type one bots."
"It's a form of malicious advertising, but in the future it might be possible protect Twitter users," he added. "We have made an algorithm available to the public which detects whether users are real people, a team of people running a politicians account or a bot, we hope it will be used to develop spam filters".
This helps explain why the Chinese takeaway box had support from porn stars and from "the official account" of Mexican actor Oscar Terrazas, who has more than 17,000 followers on Twitter. Terrazas's account may claim to be an official account, but its stream is full of advertisements for "Indian Healing Clay" and "Nail Art Gemstones". In fact, this is not the first time that this sort of bot content has filed into the Twitter stream of #GE2015. Since the campaign launched BBC Trending has noticed a number of porn accounts using the hashtag to try and promote their distinctly non-political content.
Are there lessons here for the general election campaign? Perhaps not. Take the Liberal Democrat attack ad as an example - despite just 14 retweets under the #GE2015 tag, 200 others shared it with a different hashtag, #saysorryEd, and Liberal Democrat spokesperson told BBC Trending it reached 70,000 people in all through various social media platforms. The parties themselves don't seem to be using Twitter bots. For any that were considering it, it's worth noting that sadly for the takeaway box, being able to trend in this hashtag has not made people click on the link to its Amazon site. The box only have one customer review dated February 2015, "These take out boxes are good quality. We used them to package cookies we gave out for XMAS" reports a reviewer called "El Noel".
Reporting by Hannah Henderson
If you like stories like this from BBC Trending, take a second to vote for us - we've been nominated for a Webby Award.
Next story: Dancers perform on the subway despite the threat of arrest
You might also enjoy reading: David Cameron's 'thug life' on YouTube
You can follow us on Twitter @BBCtrending, and find us on Facebook.