BBC Trending has been nominated for a Webby Award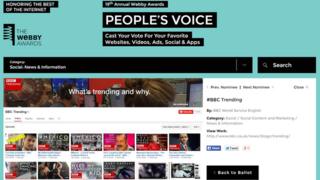 We're honoured to be up for a Webby Award - and we'd love it if you could spare a minute to vote for us.
BBC Trending has been nominated for a Webby - sort of like the Oscars for the internet. We're on the shortlist in the category "Social: News and information", and the awards are dished out according to a public vote.
We're pleased to be honoured alongside the other nominees ... and if you like the things you've seen, why not give us a like? You can vote here.
And in case you need a reminder of what we've done ... here are some of our video and blog highlights from the past year (don't forget our podcast here):
A photogenic Kurd captivated thousands and became a symbol of resistance against Islamic State. Rumours swirled that she killed as many as 100 Islamic State fighters - others said she was brutally killed by the enemy. We found out the truth about the woman they called the "Angel of Kobane".
---
We reported on the craze for racing trains and uploading the results on YouTube after a #racethetube a video made in London was watched more than 5m times.
---
Who was the mysterious woman who travelled across the southern US dressed head to toe in black? We found out where she came from, and where she was going.
---
China went crazy for London commuters on micro-blogging website Sina Weibo. We found out how British men ended up trending there.
---
The abduction of more than 200 Nigerian schoolgirls gripped the world - we traced the development of the online campaign under the hashtag #bringbackourgirls.
---
After terror attacks in Paris, we spoke to the man who created the iconic phrase "Je Suis Charlie" - he told us of his anger at attempts to cash in on the phrase.
---
What baffles the world about the British? When Redditors asked that question, we were quick to scroll through some of the most amusing answers.
---
Follow BBC Trending on Twitter @BBCtrending, and find us on Facebook. And remember to vote for us here.