Australians rally behind woman who defended Muslim couple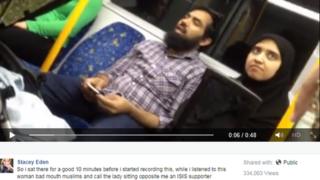 An Australian woman's defence of a Muslim couple who were allegedly abused while on a train in Sydney has attracted a slew of positive comments and has been watched hundreds of thousands of times on Facebook.
Stacey Eden says the encounter began 10 minutes before she pressed "record" on her phone. When the video does start, an older woman is heard aggressively questioning a Muslim couple, blaming them and their religion for beheadings, wars and terror attacks in Kenya and Syria. Eden, who'd had enough, answers back: "Have some respect. ... You got nothing nice to say don't say anything. It's simple."
Eden posted the footage on Facebook and commented: "People like this make me sick ... She was saying some pretty horrible and hurtful things before i spoke up then as soon as i started defending them she stopped." The reaction was swift.
The video has been watched more than 400,000 times and attracted hundreds of comments. "You deserve praise for standing up for these individuals so I'll be the one to say, good job and keep up the good work for humanity," one said. "I run my own little convenience store," said one Facebook user from Glasgow. "I get called all sorts of names all the time, I don't even have a long beard, or wear any sort of religious clothing.. Because my heart is big, I forgive them." But others were less charitable to the woman caught on tape. One commenter called the woman a "bogan" (Australian for "chav" or "redneck") - and others chimed in with much worse.
A man who says he was the Muslim man in the video also posted a message: "This video was not made by me. That is what happened to us on a Sydney train, God bless Stacey Eden she supported us".
Eden told the Australian Broadcasting Corporation that her decision to speak up came on the spur of the moment. "I just felt like if no one said anything, it was just going to keep going, so I had to say it," she said. "I didn't want to cause an argument or have a confrontation, I just wanted her to stop talking just so she wouldn't keep making them feel bad about themselves."
The treatment of Australia's Muslim minority - who make up just over 2% of the country's population - has been a hot topic, particularly since the siege of a Sydney cafe last December.
As BBC Trending reported, thousands of Australians offered to accompany Muslims on public transport in the wake of that attack under the hashtag #IllRideWithYou. Another social media campaign stood up for a Muslim woman who criticised a T-shirt showing the Australian flag and the slogan "If you don't love it, leave".
Blog by Mike Wendling
Next story: Photos of white cops helping black Americans
You might also enjoy reading: Russia's (non) war on memes
You can follow BBC Trending on Twitter @BBCtrending, and find us on Facebook. You can even vote for us - we've been nominated for a Webby Award.