Baltimore riots: Dancing man spreads peaceful message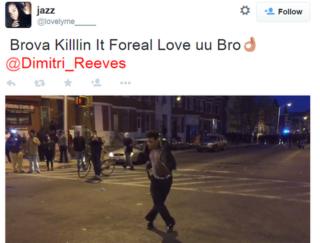 The Godfather of Soul, James Brown, once said: "The one thing that can solve most of our problems is dancing." One Baltimore resident, Dimitri Reeves, is taking that literally.
Baltimore has been the scene of unrest after the funeral of Freddie Gray, a young man who died while in police custody and who was buried this week. Protests, riots and looting followed the funeral.
Reeves, who has lived in Baltimore for three years, says he wanted to do something to break through the negative images. He has been spotted in various places around Baltimore during the riots dancing near police. West Baltimore, the area that saw the most destruction, is familiar territory to Reeves. He has been performing there for the past two-and-a-half years, not far from the CVS pharmacy that was burned.
One video, of Reeves dancing to Michael Jackson's "Beat It", has been posted repeatedly on Twitter. The song's original music video depicts two gangs coming together through music and dance, but Reeves says the choice of music wasn't a conscious statement on the events in Baltimore. His goal was entertainment.
"I wanted to help people that their minds off what they were going through," he says.
His performances, captured by both reporters and onlookers, have been shared thousands of times. "Great message," wrote one fan. "Hero!" wrote another.
In response, Reeves has tweeted out messages urging people to stop rioting. He tells BBC Trending that he hopes people can make Baltimore a "positive place to live."
According to his manager, Vaughn Mason, Reeves "is a natural entertainer" who "wants to make people smile."
Reeves is happy people are seeing positive things emerge from Baltimore. What he wants most though is for the violence to stop. "People just need to think first, and not act. Thinking will help people the most," he says.
Blog by Savannah Stephens
Next story: Fake quakes: rumours spread after Nepal tragedy
Follow BBC Trending on Twitter @BBCtrending, and find us on Facebook.