The Costco heir who became a voice for Baltimore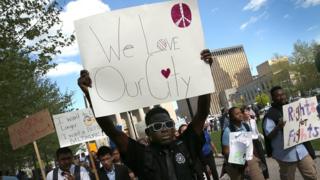 How did the Seattle-based son of a multimillionaire spearhead one of the leading hashtags for the Baltimore protests - without setting foot in the city?
Justin Brotman is a human rights activist, and the son of one of the co-founders of wholesale superstore Costco. And as the voice behind the @Bipartisanism Twitter account, he became one of the main drivers of a campaign to change the public perception of what happened in Baltimore last week.
Though #BaltimoreRiots was trending early, Brotman and a team of online activists wanted to promote a term that had a more positive connotation.
"People are set up with code words like 'riot' and 'thug' to describe what is happening, but as these incident happen again and again, the issue is becoming more mainstream. I think it's becoming clear to Americans that thugs aren't the problem - the problem is violent policing," Brotman says.
They settled on #BaltimoreUprising, and Brotman used his 118K Twitter following to give the tag legs. In days, accounts with even bigger followings, like a fan site for the graffiti artist Banksy and comedian Chris Rock, joined in.
At the time of publishing, #BaltimoreUprising has nearly 800,000 mentions on Twitter, though it has not yet gained the same traction as the #BaltimoreRiots hashtag, which has more than 2.3m mentions.
But can a campaign to change perceptions be grassroots when its origins are seemingly anything but?
Brotman seems to think so. He says he is part of a group using Twitter's direct message service to plan, strategise and discuss the protests happening in Baltimore. Through this group, he says, he has unparalleled access to what is actually happening on the streets.
"We've been down there watching peaceful protests, singing, dancing - and then everything we see on CNN and Fox is about people looting and burning," Brotman said.
Brotman says he will continue pushing for what he believes is a less biased, more accurate story from the streets of Baltimore - and wherever else protests may pop up in the US. While these stories may lack sensationalist headlines, Brotman says the narrative of a more positive, peaceful protest is gaining traction.
"I think what we're seeing is a bit of a tipping point in American culture. With each incident, with video, with witnesses, we're starting to think - wow, we really do have this problem in America," Brotman said.
"People are starting to think 'How many black men are in jail, and shouldn't be? How many black men have been killed?' That's all starting to percolate clearly."
Blog by Brenna Cammeron
Next story: Who is Baltimore prosecutor Mosby?
Follow BBC Trending on Twitter @BBCtrending, and find us on Facebook.