Stop and search video viewed over a million times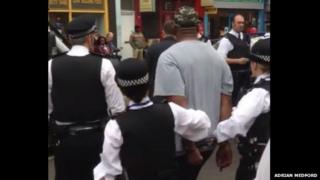 A video showing London Metropolitan Police officers stopping and searching a man has been widely shared on Facebook - leading some to question the relationship between black communities and British police.
In the US, there have been dramatic street protests, riots and anger online over allegations of police brutality in places such as Ferguson and Baltimore. In the UK, the situation is different - but the story of one viral video shows how the debate seems to be echoing across the Atlantic.
On 16 April, Adrian Medford, a 34-year-old from Croydon in south London, was outside his home when a friend he was with was stopped, searched and handcuffed by the Metropolitan Police. Medford told BBC Trending that his friend had a bag and that he "reached into it and gave 50p to his daughter so she could go buy sweets" - and that was when police approached him.
Medford filmed what happened on his phone and posted it onto Facebook. His friend, who, like Medford, is black and who does not want to be named, can be seen angrily arguing with a group of white police officers. There's plenty of shouting, with strong insults and bad language being used against officers. Medford's friend shouts that he is being detained for "giving a child a parcel, what kind of madness is that?" Other people, mostly black but some of other races, can be heard shouting "no reason" and "racist" as officers continue to attempt to calm the man down.
The Metropolitan Police told BBC Trending that two officers were sent to the scene after the force received a call from a member of the public who reported that two men were "handing out 'pouches of paper' to a group of youths" and "believed this to be connected to drug dealing activity." The police said the caller was quite specific in describing the bag, which is being carried by the arrested man in the video.
The police said that other units were later sent to the area to provide crowd control, because the group surrounding the man were blocking the pavement. They added that officers took the man away from the street so that a search "could be carried out safely." No drugs were found.
The man was eventually released without charge, and there is no suggestion the police broke protocols. But Medford told BBC Trending he wanted to put the film online because he "thought the police were totally out of order."
"I was inspired to put it onto Facebook because of what's been happening in Baltimore and Ferguson," he said. He does use bad language about the police in his Facebook post. Comments on the film included remarks such as "I'm disgusted....black people are so violated on a daily basis and for what??" and "they don't like black men, they ... get you to retaliate so they can arrest you".
The use of stop and search has been controversial in London - one study indicated that anger at the use of it was one cause of the 2011 riots. But more recently police say they have undertaken significant efforts to make the tactic much more targeted. Andy Trotter, former Chief Constable of the British Transport Police, told BBC Trending that he's of the view that the officers in the video "are reacting really patiently and explaining what they are doing."
"They are getting a fair bit of abuse, they seem to be quite calm, there is no sign of violence and it is how I would expect them to behave."
"If I'm honest, years ago officers would have dealt with it differently," he says. There are plans for Metropolitan Police to be issued body-worn cameras, which Trotter supports. "Everything should be under scrutiny," he says, "but these are testing times for young officers trying to do their jobs."
Blog by Hannah Henderson
Next story: Why are Bollywood stars defending a hit and run?
Follow BBC Trending on Twitter @BBCtrending, and find us on Facebook.