'I am angry, I am sad... I am Ismaili, I am Pakistani'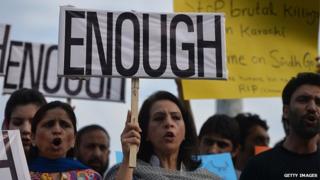 After a brutal massacre by a group claiming links to Islamic State, thousands of Pakistanis express solidarity with the victims - but not everyone is impressed.
Many Pakistanis are expressing solidarity with Shia Muslims from the Ismaili sect, after 45 members of the community were killed in an attack on a bus in Karachi on Wednesday. Pakistani Taliban splinter group Jundullah, which claims links to Islamic State (IS), said its Sunni militant gunmen carried out the attack.
Sunni Muslims are the majority in Pakistan; among the Shia minority, the Ismailis are one tiny sect. Many Ismailis run businesses and charities in Karachi. While this is the first such attack on the Ismaili community, more than 60 Shia Muslims were killed in a bomb blast earlier this year.
Online, there has been an outpouring of solidarity and grief, spurred in part by anti-extremist movements that we've featured before on BBC Trending. After the attack, activist Jibran Nasir - who sent a message to the Taliban that Trending reported on earlier this year - posted a 11-minute video on Facebook which has been viewed thousands of times. In it, Nasir asks Pakistanis to stop living in a "bubble" and urges people to actively oppose the violence.
"In my country, my rights and my freedom to speak is decided at my birth. It is based upon my gender, my ethnicity and my religion," he says. "Those of you who do not stand up to protest because you think you will not be attacked because of who you are, get out of that bubble. Stop living a false dream and demand accountability."
Others used Twitter. A widely-shared tweet called out those who said that the religious beliefs of those killed in terror attacks should not be identified in the media: "Minority when alive but Pakistani when dead," it said.
"The Ismailis have contributed immensely to Pakistan's health, education, culture and business sectors. They have sacrificed their blood for Pak," wrote activist Salman Ahmad, while another comment read: "I am heart broken, I am angry, I am sad, I am a victim, I am a survivor, I am Shia, I am Sunni, I am Ismaili, I am Christian, I am Pakistani."
Nearly 10,000 posted their message with the hashtag #SolidaritywithIsmailis. The hashtag appears to have been first used on an account linked to a political party (in this case the Pakistan People's Party) and then picked up by others. "Why no trend for the Ismaili community? They are lesser Pakistanis or we can't dare? Pakistan, show #SolidarityWithIsmailis," reads the tweet.
Solidarity has become a feature online after each sectarian attack in Pakistan - but not everyone is a fan. "No humanity left in Pakistan; every incident is seen as an opportunity to score political agendas," and get a few hashtags trending, said Karachi-based journalist Faizan Lakhani.
"Let me put up a status that will satisfy my shamed guilt ridden conscience as a Pakistani #IAmIsmaili nope didn't work," wrote blogger Faisal Kapadia, while journalist Zarrar Khuhro sarcastically posted: "I think we may have had yet another 'nation has awoken' moment after which 'decisive action' will be launched."
"Such trends have become expected and the usual," says Tahir Imran, BBC Urdu's social media editor, but he adds, "the sentiment behind them is genuine."
Next story: "Take us with you, Scotland" say thousands in North of England
Or maybe you'd like to watch: Would your child go off with a stranger?
Follow BBC Trending on Twitter @BBCtrending, and find us on Facebook.