Where is Nkurunziza? Funny and sarcastic photos of the 'search' for missing president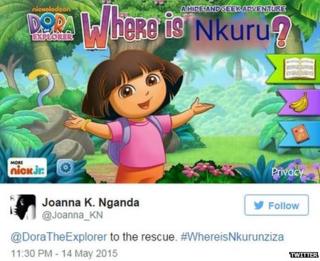 As the Burundians wait for their president to speak upon his return to the country after a failed coup, people across Africa have responded by posting satirical photos of their hunt for him in weird and wonderful places.
Burundi President Pierre Nkurunziza claimed to have returned to his country, after he was stranded in Tanzania following protests against his plans to seek a third term of office. Three leaders of the attempted coup have been arrested and the United Nations estimates that more than 100,000 people have fled the country because of the conflict.
The president says he's in his stronghold of Ngozi in the north of the country, but not everyone on social media is convinced, despite several witness reports and statements from his official spokesperson. Overnight the hashtag "Where is Nkurunziza" was used around 2,000 times as people across Africa mocked his apparent disappearance.
One tweeter from the capital city Bujumbura, Kris Nsabiyumva, shared several messages calling for the American children's cartoon character Dora the Explorer to be sent to find the president before attempting to search himself for the missing president - by looking behind his sofa. This morning the writer, who also runs a blog called "Mr Burundi" confidently told his followers: "A cousin in Ngozi just told me he saw Nkurunziza with his own eyes. We found him!"
Reports from the country say Nkurunziza is expected to make a public address to the nation later Friday, so the world won't have long to wait to see if he has actually made it back to Burundi.
Blog by Hannah Henderson
Next story: Can hashtags really cause peace to break out in Pakistan?
Follow BBC Trending on Twitter @BBCtrending, and find us on Facebook.