The angry harassment retort that hit home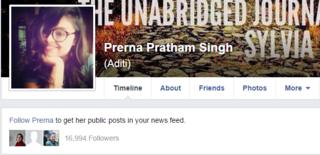 A woman in India is hoping her response outing a man who sent her a lewd message on Facebook will inspire others to speak up against harassment.
Prerna Pratham Singh, a 21-year-old from Delhi, had been ignoring the random "hi" messages she had been receiving from an account she didn't recognise on Facebook until she received a particularly lewd one. Enraged, Singh took a screengrab of the conversation and posted it along with a rant against harassment.
"Let me tell you sir. I have seen cheap people like you all around the corner," she wrote. "I am going to make sure that you are brought to the limelight. Us girls don't come on Facebook to have sex or get attention. But hey, if you want some, here's your chance to fame. Get ready to be prosecuted by the police and all over Facebook. I'm pressing charges." She also made pointed references to the man's wife.
The post was a hit - it was liked more than 60,000 times and shared by nearly 10,000 users. "I have gone through the same and I still do, each day," one commented. "You are my hero, Prerna. You have given me a lot of courage. ... Hats off lady." Another said: "You are that voice of [a] thousand girls who couldn't do that."
The screenshot has since been removed by Facebook - but Singh has called on the thousands who supported her to keep spreading the message. (BBC Trending has contacted Facebook to find out why the post was taken down.)
The man who owns the account that the offensive message came from has protested his innocence. He said his account had been used by someone else, and he apologized for any hurtful messages. His profile has also been taken down. But Singh kept her word and filed a complaint with the police.
The safety of women has of course been a huge issue in India since the gang rape and murder of a student in Delhi in 2012. Likewise, on social media more women are speaking up about harassment and abuse, but as BBC Trending asked previously, is it fair to expose the accused online before a criminal investigation or trial?
"He chose to send the message to me and hence I have the right to share it," Singh told BBC Trending. "As long as the person is not publicly named and shamed, they will not stop doing it." She says her intention was not to humiliate the person, but to send a message to those who think they can get away with sending women lewd comments.
Some have accused her of conducting a publicity stunt, she says, but she is sticking to her message, "It is absolutely okay to tackle physical, mental, emotional, financial abuse in the real world as well as the virtual world," she says.
Next story: The fake cop causing real trouble for police in Sweden
Follow BBC Trending on Twitter @BBCtrending, and find us on Facebook.