Saudi con artists use photos of sick American girl to solicit donations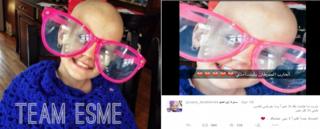 Her story prompted an outpouring of sympathy and cash donations - until it was revealed to be a fake.
A Twitter account claiming to belong to a Saudi girl receiving treatment for leukaemia touched the hearts of thousands. Photos showed the young cancer patient, named as Sara Ibrahim, smiling through the stages of her treatment. The account, started in February, gained over 75,000 followers and thousands of tweets were posted with the Arabic hashtag #Friend_of_Sara, with comments such as: "Sara you are my sister and daughter and I hope to see you a bride and happy." Many gave money to help pay for Sara's treatment, sending the funds via bank details sent to Twitter users in direct messages - although it's impossible to say for sure how much money was donated in total.
There was only one problem. The account was a fake.
The fraud was revealed by ordinary Saudi Twitter users, who turned detective and discovered that the photos had been taken from the social media accounts of a young American cancer patient named Esme Miller. When one tweeter, @_Talal1 investigated further, he realised that the account was indeed fake, he posted the news in a message that was retweeted thousands of times. A hashtag which translates as "Sara Ibrahim's lie" was then used more than 50,000 times.
As the news spread, the full extent of the deception became apparent. Saudi Prince Khaled Al Saud tweeted a mobile phone number - he said he'd been given it by those running the fake account and that he used it to speak to someone claiming to be "Sara". Many also worried about how the incident would affect support for others battling illness. Kuwaiti @AlotaibiKhaled said: "What's sad about it is that anyone who has an illness in future will find it difficult to find any sympathy even if he is being truthful."
When the fakery was uncovered, the family of Esme Miller - who is a real 11-year-old undergoing treatment for bone cancer - found themselves w flooded with messages informing them of the scam and posted about it on their own Facebook page. "Makes me sad and sick that someone used that precious girl's photo like that," said one comment on the Team Esme Facebook page, which has been used to share her (real) story of battling the illness.
Prominent Saudi lawyer @KhalidAboRashed tweeted that whoever was behind the account should be sued for fraud and impersonation, while others shared a screen shot of a direct message from Sara Ibrahim's account giving bank details and a purported name of one of the fraudsters. BBC Trending was unable to trace the people behind @sara_Ibrahim44, and the account has now been closed - and it's unclear whether or not the Saudi authorities are investigating.
Blog by Sumaya Bakhsh
Next story: The pigeon accused of being a spy
The news of a pigeon detained in India on suspicion of being used to spy for Pakistan was met with amusement on both sides of the border - and encouraged Pakistanis to share memes and jokes making fun of their neighbours. READ MORE
Follow BBC Trending on Twitter @BBCtrending, and find us on Facebook.