This is what happened to the Saudi comic who sneered at Islamic State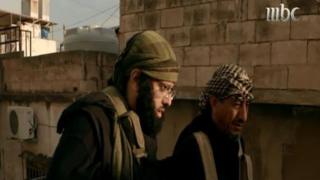 One of Saudi Arabia's most popular comedians received death threats from Islamic State supporters after his latest series sneered at IS - but the comic's supporters answered back with a hashtag mocking the militants.
It's a Ramadan tradition. Every year during the Islamic holy month, Arabs gather after they break their fast at sunset to start a TV-watching marathon that lasts until the early hours of the morning. And among this year's broadcasts is Saudi comic Nasser al-Qasabi's satirical series Selfie, which takes aim at sensitive social topics.
Qasabi's programmes over the years have became some of the most-anticipated shows in the Arab world, and this one was no exception - after first airing, Selfie was mentioned in tens of thousands of tweets. It's also caused controversy on several fronts. An investigation is underway after a conservative cleric denounced al-Qasabi when he made fun of Saudi imams smashing musical instruments.
But it was much darker jokes about Islamic State that provoked a huge response on social media. In the first few episodes of Selfie, al-Qasabi plays the role of a father who travels to Syria under the pretence of being a fighter in an attempt to find his son who joined IS. He encounters clueless militants who parrot bizarre ideological slogans, but the story ends not with humour but tragedy - the father is executed after he refuses to take part in a suicide mission.
The grim subject matter stirred strong emotions in some. "I got tears, could feel my stomach squeezing, my heart was hurt, I went speechless. That was art, thanks to the amazing team of Selfie," a Saudi woman wrote on Twitter.
"Hats off to Nasser Al-Qasabi for his outstanding performance in portraying the ugly truth of ISIS!" one Iraqi man tweeted.
But not everyone got the joke. Among those who didn't take to the show were a number of IS-related Twitter accounts - one sent al-Qasabi a message: "The Mujahedeen will not rest until we separate your head from your body." The account has since been suspended but a screen grab of the tweet is circulating online.
Shortly after this and other threatening tweets started appearing, a new hashtag calling for the "beheading" of the Saudi actor started trending with over 12,000 tweets in Arabic. The hashtag fooled many into thinking it was started by IS accounts. But it turns out the hashtag was actually launched to mock the threats.
The first tweet under this hashtag came from a fan of al-Qasabi's show: "Maybe you can wait until the end of the episode before you behead him?" the fan joked.
Al-Qasabi responded to the threats he received online in an interview with the Saudi news channel al-Arabyia: "God is my protector and the work I do on Selfie is my jihad against those who think they are fighting the real jihad."
Blog by Mai Noman
Next story: Chinese respond to 'rude' stereotype
"What is happening culturally in China that can account for their poor reputation as tourists or immigrants elsewhere in the world?" It was a potentially inflammatory question, posted on in an online forum on Reddit by an American. (Although she added afterwards, "This is a genuine question so I am not interested in racist or hateful replies"). READ MORE
You can follow BBC Trending on Twitter @BBCtrending, and find us on Facebook. All our stories are at bbc.com/trending.