#TheEmptyChair moves discussion beyond Cosby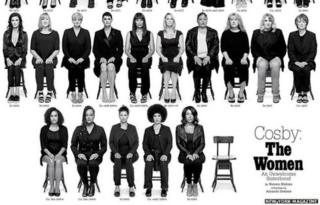 New York Magazine's latest cover features 35 of Bill Cosby's 46 accusers - women, each seated, who say the comedian drugged, assaulted and in many cases raped them.
It is a stark visual representation of a "sorrowful sisterhood," as one of the accusers called it.
But the chair that has perhaps garnered the greatest reaction is the empty chair, a seat symbolically held for the women Cosby allegedly assaulted but declined to be interviewed by the magazine, or who have not come forward at all.
According to lawyer Gloria Allred, who says she represents 17 Cosby accusers, the magazine piece is a damning indictment against a comedian who previously enjoyed a squeaky-clean reputation as "America's Dad".
"I haven't seen any other place where all of the women were assembled in a photo together. It's a very powerful and beautiful image of women standing up, speaking out, willing to use their voice against a rich and famous man," Allred told BBC Trending.
Cosby has denied the allegations and has said the encounters were consensual.
As readers shared the story on social media, the hashtag #TheEmptyChair started going viral on the platform that helped the initial story against Cosby to gain traction - Twitter.
Since the story's publication, more than 23,000 tweets have mentioned #TheEmptyChair.
While many of the #TheEmptyChair tweets reference Cosby, some of the most-retweeted messages use the story as a springboard to talk about the larger problem of unreported sexual assault.
"Shame on us for not believing the first one decades ago and shame on those who still don't believe after over 30 women #theemptychair," one Twitter user wrote.
"#TheEmptyChair isn't big enough to fit all the people who have been raped, unheard and shamed," wrote another.
Novelist Lisa Burstein added "I was the #emptychair for a long time."
Burstein told BBC Trending that the cover "symbolises hope" for her.
"The symbolic placement of the empty chair in the same line as survivors who were ready to speak, who demanded to be heard, it would have given me strength," she said.
"It would have reminded me that even unspoken, my story still mattered, and was still real. It would have let me know that someone would be waiting to listen when I was finally ready."
For Burstein, who said she was assaulted more than 22 years ago at the age of 17, #theemptychair and the discussion around the hashtag is much more than the chronicle of Cosby's accusers brought together for the first time.
"I wish there was a space like this when I was 17. It might have alleviated years of needless suffering just to know I was not alone," Burstein said.
"The Internet has changed everything," Allred said.
"Decades ago, these women didn't know there were others that had accused Mr Cosby of victimising them. They thought they were the only ones. Now that they know that they're not alone, they've become empowered. And they'll never go back to being silenced again."
Blog by Brenna Cammeron
Next story: Why are some jokes are being hidden on Twitter?
You can follow BBC Trending on Twitter @BBCtrending, and find us on Facebook. All our stories are at bbc.com/trending.