Why are Iranians lip synching to political speeches?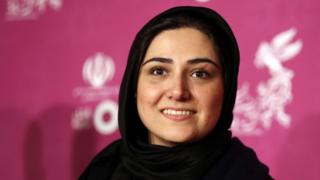 As Iranians prepare to vote in key elections, supporters of reformist candidates have found a novel way to get their message across.
The Dubsmash app, as BBC Trending has reported in the past, is usually used by people to create and share videos of themselves miming or lip-synching along to the words of pop songs.
But the prominent Iranian actress Baran Kosari has used it to film herself miming to the music-free soundtrack of a recording of former President Mohammad Khatami. The audio comes from Khatami's own video message, released on Monday, in support of reformist candidates who are challenging hardline conservatives.
The original footage of Khatami has not been played on Iranian broadcast media because he is still subject to a media ban imposed after protests erupted in Iran following the disputed 2009 presidential elections. The former president, along with other political figures, were branded as the "leaders of sedition" by conservatives.
Iran elections: Five things to know
So by posting the video on social media, Kosari was not only expressing her backing for the reformist bloc of candidates but also making a statement about Khatami's predicament.
Her example has inspired a number of other Iranians to record their own Dubsmash videos mouthing along to Khatami's words.
Friday's elections will not only decide the make up of the next Iranian Parliament but also who sits in Iran's Assembly of Experts for the next eight years. The assembly is a watchdog body tasked with supervising the performance of Iran's Supreme Leader Ayatollah Ali Khamenei.
Crucially it also chooses who will be the next Supreme Leader. As Ayatollah Ali Khamenei, is 76 years old, and has suffered poor health, it is highly possible that the next Assembly of Experts will get to pick his successor. That has given an added impetus to this year's vote.
As conservatives control the Guardian Council, the body which vets political candidates, many influential moderate candidates have been barred from running.
The reformist camp see their best chance of influencing events in Tehran where they are being allowed to field 30 candidates in the parliamentary elections and 16 for vote on the Assembly of Experts.
In his original video, Khatami called on people to vote for this "List of Hope". In one excerpt he said: "Those who care for reforms, improvement, progress in the country as well as removal of threats and limitations, need to try to vote for both the lists, all the individuals in both the list, I repeat, vote for all the individuals in both the list, to take steps on the path of the country's dignity and to boost stability and security in the country as well as to optimize and improve the affairs".
---
Follow BBC Trending on Facebook
Join the conversation on this and other stories here.
---
In her video, Kosari is seen holding up a photo of the ex-president in one hand and holding up two fingers with another, a plaster on her inky index finger. The plastered finger seems to be a sign used by some reformist campaign posters, to imply that they are still scarred by the 2009 election.
Kosari was also among the supporters of the protests following the 2009 polls, who disputed the fairness of elections which saw Mahmud Ahmadinejad returned to power for the second time. Images of Kosari are banned on Iran's state TV, although, she continues to act in movies.
In her Dubsmash video she mimes the words: "Vote for both the lists, all the individuals in both the list, I repeat, vote for all the individuals in both the lists". While saying the words, she opens her fist showing the palm of her on which is written 30 + 16, a reference to the lists of candidates in Tehran.
Dubsmash, is extremely popular among Iranian youth. And Kosari's video has been viewed thousands of times on various social media networks and shared widely.
Many on social media seem to love the idea as the number of view counts shows, but some found it lame. A typical supportive comment reads "an interesting move by Baran Kosari". "I think the idea of a Dubsmash video is brilliant since Khatami is banned on media", reads another.
"I am not re-tweeting Baran Kosari's's Dubsmash video to prevent the number of votes from falling", reads a tweet. "I think the idea is not good because it does not engage with its audience. The message has got lost", says another Twitter user.
Next story: Australian 'blackface' makeup tutorial goes viral
A satirical video showing "whitefellas" how to "do blackface properly" has gone viral. Australian actor and writer Bjorn Stewart's latest video posted on the Cope St Collective Facebook page has been viewed over 84,000 times. READ MORE.
You can follow BBC Trending on Twitter @BBCtrending, and find us on Facebook. All our stories are at bbc.com/trending.