Handgun prizes for 'Fittest on Earth' causes controversy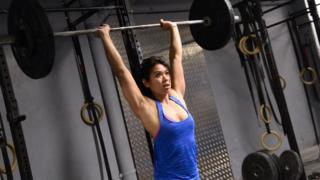 Channing Tatum is a fan. So is Cameron Diaz. And Paul Ryan, the Speaker of the US House of Representatives, starts his day with an intensive CrossFit workout.
To its fans CrossFit is a hardcore way to stay healthy, but for its detractors it is a brutally demanding gimmick that inspires cult-like reverence. And it's only around 20 years old; a truly millennial fitness regime.
But now what Forbes magazine has called "the fastest growing sport in America", has become engulfed in a controversy which has divided enthusiasts. The cause of the division is that the organisers of this year's global CrossFit Games - which start in California on 19 July - have announced that the winners will each receive a Glock handgun as a prize.
The sign of trouble came when the CrossFit Games' official Facebook page posted a slick video last week, showcasing the handgun.
The video, has been viewed more than 800,000 times and drew a swift response. Most of those who commented were outraged that their firearm-free sport had been associated with guns. An online petition which demands an end to the partnership with Glock has now been signed by more than 20,000 people.
One of the outraged CrossFitters, Kyle Williams called the video "a glorified pistol ad." A CrossFit gym in Vancouver wrote, in a an Instagram post, that "CrossFit stands for fitness, health, and community, and The Games is rewarding the top athletes with a gun. How does that make any sense?"
Another Crossfit gym, in Sweden, showed its disgust by posting a picture on Facebook of the famous sculpture of a gun with it's barrel twisted in a knot made by the Swedish artist Carl Fredrik Reuterswärd following the fatal shooting of John Lennon. The caption expressed the hope that any Swedish winners would throw their prizes into the sea.
However, there were some supporters of the tie-up between CrossFit and Glock, and they were mostly American. Dane Anderson from Montana wrote on Facebook that "shooting guns is fun. It's a great way to decompress, let off stress. Learning to become proficient with it so that if you need to you can defend yourself or others." Ronny Rossi felt similarly: "This is America its our constitutional right to be able to bear arms."
Those voices, though, were very much in a minority on the CrossFit Facebook page. Many more were appalled by the choice of prizes. And some have criticised fellow sponsor Reebok for not acting to stop a gunmaker getting involved. But the sportswear company told Vocativ that it "does not have input on CrossFit Games' other partners or promotions, and it would not have agreed with teaming up with Glock if it had."
The anti-Glock petition was started by Australian CrossFit enthusiast Daniel Bartels, who pointed out that the sport had, up until now, been very selective about what sort of sponsorship deals it agreed to be involved with.
"CrossFit Inc would not form partnerships with fast food restaurants, alcohol companies, cigarette, or pharmaceutical companies on the same basis. But a gun manufacturer is deemed as a good partner. This is not us. CrossFit is for health, fitness and the well-being of people in all communities. This is not CrossFit. This should never be CrossFit."
Bartles told Trending that he set up the petition was a "spur of the moment idea as result of my own personal reaction and on serving the largely negative comments online. I didn't like the association that I would have entered a competition where one of the prizes for the winners was a firearm."
For Bartles CrossFit is something that you mess with at your peril.
"What it means to me is a great community. We know each others families and how life is at work. We get excited when someone hits a goal or makes a new personal best. We get excited when the membership of the gym grows because the owner/s are our mate's and we want them to succeed. I would say that it is more of a lifestyle as most people are doing their best to live, eat, train, stretch and perform better each day. "
Trending approached the games organisers for comment. Although they offered to answer questions via email, they had not responded at time of writing.
However, the director of the CrossFit Games, Dave Castro has defended the sponsorship deal in a newspaper interview. "I am one of millions of people in the US who own guns for recreational and legal purposes. I compete in competitive shooting events, and I have a lot of friends in the shooting industry. Glock offered up pistols as prizes, I agreed to it," Castro told the Los Angeles Times.
"There has also been tremendous support. If I were to make all of my decisions based off of backlash, everything I have done around the CrossFit Games would have been butchered, altered and changed multiple times over.. As long as guns are legal in the U.S. based off of our constitutional right, nothing is changing."
Competitors take part in the intensive CrossFit Games, which spans three stages over several weeks, from all over the world. It's website says the Games are deliberately intense in order to determine who are "the Fittest on Earth™".
Trending has approached Glock for comment.
Blog by Megha Mohan
Next story: "A death that will haunt me for life"
A doctor's social media post about the preventable death of a child highlights concerns about anti-vaccination campaigning in India. READ HERE
You can follow BBC Trending on Twitter @BBCtrending, and find us on Facebook. All our stories are at bbc.com/trending.