Single mum drags up for 'Donuts with Dad'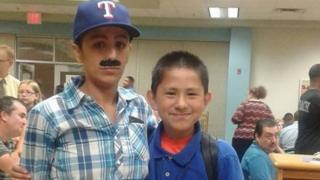 It's a juggling act that many single parents feel they should try to pull off: playing both mum and dad so that their child does not miss out.
But one single mother's creative manner of ensuring her son did not feel excluded from a school event celebrating paternal bonding, has tugged at social media's heart strings.
Yevette Vazquez, from Fort Worth, Texas, was dropping off her 12-year-old son Elijah at school when she saw that there were more parked cars than is usual for a school run.
"I ask him why there was so many cars," Vazquez wrote in a Facebook post that has been shared more than 6,000 times, "He said Donuts with Dad". It was an event being held by the school to honour father-child bonding.
But Vazquez, who is a single parent, did not want her son to be left out from the event. Instead, she and Elijah drove home so that she could change her appearance from this:
To this:
"I know seeing other dads with their kids isn't easy for mine but it's life, at least I can do whatever it takes to put a smile on that face," wrote Vazquez in the post.
And she certainly got that smile from Elijah.
The post, which had the tags #ilovehim #wegettingthemdonuts #noexcuses, has received more than 18,000 reactions.
One user called Ceci Solis wrote: "Omg tears r coming down my face". And seemingly drawing parallels with her own experience, she added: "It's hard not having a dad and for u to do that it's just amazing". Another named Mozar E Lucy DePaula said "You are an amazing mom, I was a single mom and I know what take for us to do anything to see a smile in our kids face. You are the best and keep up. God bless you and you son".
A post from somebody with the handle Kookie So'Nawleans praised Vazquez's enterprising nature by writing "U deserve a million doughnuts".
Several called for her to be crowned "Mother of the Year".
One person enquired whether Elijah was embarrassed at any stage of the process. Vazquez replied that he wasn't, and he even sprayed her with cologne as she donned the checked shirt, tucked her hair into a cap and added the stick-on fur as a moustache.
In a follow-up post Vasquez added that she had received messages from "people in New York all the way to Egypt" and that her "heart was full" with the messages of support.
Blog by Megha Mohan
NEXT STORY: Bollywood legend's advice to granddaughters divides opinion
Amitabh Bachchan pens open letter urging "all of India's granddaughters" to overcome sexism. But not everyone's a fan. READ MORE
You can follow BBC Trending on Twitter @BBCtrending, and find us on Facebook. All our stories are at bbc.com/trending.