Pancakes, dogs and jokes: The Tinder PowerPoint profile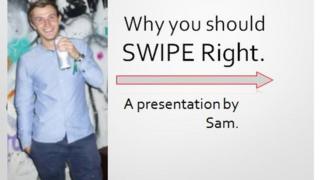 Some people go to great lengths to get a date. Student Sam Dixey is no exception, but he may not have expected his dating-app slideshow presentation about his personal qualities to be shared by tens of thousands of people.
Tinder user Gracie Barrow "swiped right" - to show interest in Sam's profile - only to find a series of photos and pancake references which left her "crying" with laughter.
Since sharing the profile on Twitter, her post has been retweeted 20,000 times (and counting), and liked over 90,000 times.
Although Sam created the profile last year, it was the tweet on Saturday which propelled attention to it.
"At the weekend, I was completely oblivious until I got home from football and people started tagging me. By then, around 1,500 people had liked my presentation. I had no idea it would go viral," he told the BBC.
You might also like:
Whilst on a work placement out of Leeds University in 2017, Sam and his friend decided to create something a bit more professional looking for their Tinder profiles.
"We smashed it out in half an hour and tweaked it with our own photos. I can laugh at myself, so decided to make it funny."
Starting off with an image titled "Why you should swipe right," Sam listed his qualities and skills such as:
Generous when drunk
Owns a Netflix account
My friends say I'm funny
Great guy to take to family events
Sam's possibly fictional personal references - and the likelihood of good pancakes - have attracted attention, too, with one Twitter user saying she would date him "based on those totally genuine reviews".
Many users appreciated the humour: Being "actually funny" was better than "just saying 'great sense of humour'," said another user.
Some people shared Sam's creation as a good example for attracting more interest.
Craig on Twitter shared the profile with his friend Liam, saying it was "worth a look... girls love reviews. I put some of my eBay feedback on mine and they went wild for it."
Sam feels he's been quite successful on Tinder, having been on around 20 dates since his creative update, although he is currently single.
"My profile became a talking point. Girls would pop up complimenting me and giving me 10 out of 10, like Gracie did."
Brooke Callander tweeted she'd swipe right just for the presentation skills, while Adri said she'd swipe right at "petting doggos"
"My friends find it really funny," says Sam. "It's on nearly all of their social media profiles and they're encouraging me to stay true to myself."
As with any good application or CV, the profile includes references to fictitious articles like How to Deal With a Disappointment for a Son by P Dixey, Never Gonna Give You Up by R Astley, and the Times Guide to Pancakes.
The humour continued right to the end of the reference section, which read: "All definitely very real references and not made up in the slightest, by J Bloggs."
When he finishes his degree in biological sciences, Sam plans to travel to south Asia over the summer and has a job lined up on his return to the UK.
What about dating? Will he see Gracie? Sam told the BBC they have been in touch privately, keeping each other up to date with some of the reaction and joking about becoming famous.
"She said maybe we should do something and post about it. So that would be a possibility. We might go on a date."