Weekend Edition: The week's best reads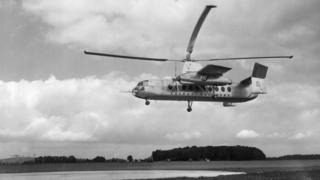 A collection of some of the best features from the BBC News website this week, with an injection of your comments.
"Good story," tweeted The Aviation Historian. The Rotodyne was once described as a "new way of flying" and the Government had hoped it would become a mass mode of transport. After much tinkering, it first flew abroad to Paris from Heathrow, via Dover and Brussels, in June 1959. However, the half-helicopter, half-plane never really took off and it was scrapped in 1962.
Why did the half-plane, half-helicopter not work?
Red hot mama
"Move over Beyonce. The fascinating story of the original queen of celeb PR," tweeted Claire Bonfante. This is the story of the jazz singer who was friends with gangsters and presidents and was proud to be "fat". Sophie Tucker wrote down the names and addresses of fans in her binder, and before her next tour she sent postcards to let them know she'd be in town. By the time she died, she had collected over 10,000 addresses in this way. "She was an incredible woman - so strong," says Sue Kelvin, who played Tucker in a one-woman show in the UK.
The 'fat girl' everybody loved
Mao's mangoes