Costa Rica: President adds a piglet to the palace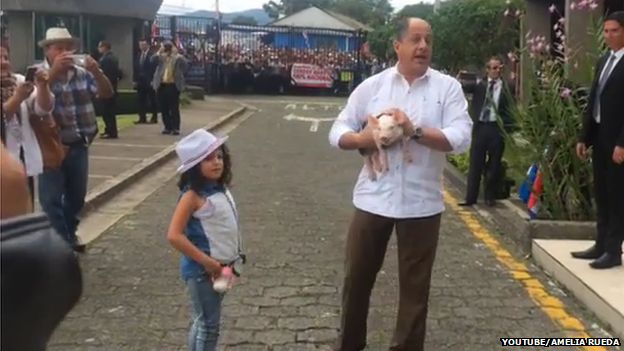 Costa Rica's president has welcomed an unusual new addition to his household - a two-week-old piglet named Daniela.
A young girl handed the piglet to President Luis Guillermo Solis during a rally by farmers outside the presidential palace in San Jose, and the president says he plans to keep it, the Efe news agency reports. Daniela can rest easy now that she's a presidential piglet - Mr Solis says she won't end up on the dinner table, but instead will be "the first pet of the republic". He likened the piglet to US President Barack Obama's pets, and the turkey that is traditionally pardoned at the White House each year. "If Obama has dogs and a turkey, then I will have a pig," he joked.
The squealing piglet was given to the president so that he understands what it takes to raise a healthy animal, farmer Arnoldo Zuniga tells the Amelia Rueda news website. Costa Rica's pig farmers say that their industry is in crisis over the import of cheap foreign meat, which they say does not meet hygiene standards. Hundreds of agricultural workers gathered outside the palace last week to call for the renegotiation of trade agreements to better protect domestic producers.
As for Daniela, she's a bit too young to settle into the presidential palace just yet. The piglet has been returned home to the central province of Cartago for the time being, so she can continue to be suckled by her mother.
Next story: Villagers use toy cartoon cat in rain ritual
Read full article Costa Rica: President adds a piglet to the palace