Debate over Chinese city's women-only bus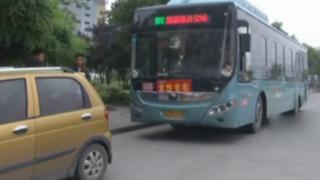 The introduction of a women-only bus in one Chinese city has riled some local men and sparked an online debate.
The new summer service will run during morning and evening rush hours in the eastern city of Zhengzhou, in an effort to cut the number of groping incidents, Dahe Daily reports. The local bus company says it'll protect women from being harassed when wearing lighter clothing, and also help breastfeeding mothers feel more comfortable.
Female-only train and metro carriages have been introduced in many countries with varying degrees of success, but single-sex transport is a relatively new concept in China.
Women interviewed on board the bus said they were pleased with the service, with one telling a reporter: "Of course this is a good idea, it is very respectful to women."
But some local men are less impressed. One tells Dahe Daily that harassment isn't common on public transport: "The bus company has made a fuss over it - this measure will cause men to feel humiliated." Another man complains to China National Radio: "I had to wait a really long time for another bus to arrive because I wasn't allowed on."