Fiji: Police chief fights off raiders with chair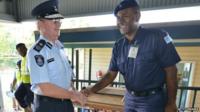 Fiji's chief of police was involved in the fight against crime first-hand, armed only with a folding chair, it's been reported.
The Pacific nation's South African-born police commissioner Bernadus Groenewald squared up to the ugly face of crime while at a function in a restaurant in the capital Suva, Radio Australia reports. While Suva was celebrating with a parade for the country's world champion rugby sevens team, a balaclava-clad gang burst into the restaurant, demanding cash and valuables. Groeneweld told the radio that "police instinct took over and I grabbed a folding chair" and told them to leave.
The Fiji Broadcasting Corporation said that eight people were being questioned over the raid after restaurant customers wrote down the number plate of a taxi being used as an escape vehicle by the fleeing suspects. After being struck on the head and injured by a full wine bottle, Groenewald said he hoped the restaurant owner would allow him to keep it as a memento. Released from hospital with 13 stitches in a head wound, he told Radio Australia that he was already back at work.
Despite being praised in the local press as one of the "Heroes of the Night", he said he only reacted to the invasion because he is a trained police officer, and urged Fijians not to do the same for their own safety. Instead he challenged the public to come forward about similar incidents, because, in his own words, Suva has become "pestered" by armed robberies over the last six months. The most up-to-date government statistics show a steady rise in crime between 2009 and 2012, with theft increasing three-fold during that period.
Next story: NZ government pledges millions to save the kiwi
Read full article Fiji: Police chief fights off raiders with chair