Dusseldorf residents told to pay for Nazi-era road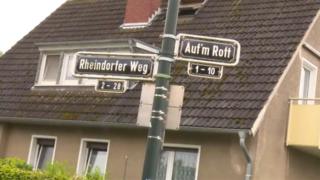 Homeowners on a street in Germany have been told they must foot the bill for their road's construction - even though it's been there for nearly 80 years.
Residents on Auf'm Rott, in suburban Dusseldorf, went to court after city authorities told them pay an average of 10,000 euros ($11,000; £8,400) per household for what looked like a long-established road, Die Welt reports.
The bills included a conversion from the Nazi-era Reichsmark currency into euros for the original road surface, first laid in 1937, which is being dubbed "Hitler asphalt" by the German media. The figures were also adjusted for inflation.
While homeowners were perplexed, a court has now confirmed that they must cough up the cash. It determined that while construction began in the 1930s, the road was only officially completed in 2009 when pavements were added. For the intervening period it was considered to be under development.
In Germany, residents have to pay a "development contribution" to the local authority for things like new roads, cycle paths and street lighting.
Read full article Dusseldorf residents told to pay for Nazi-era road