South Korea: Envoys' spouses show off cooking skills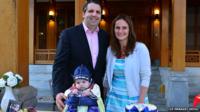 A South Korean newspaper has launched a series introducing readers to international cuisine through the wives - and husbands - of foreign ambassadors working in the country.
So far, the Joongang Ilbo "Cooking with Her Excellency" series has introduced its readers to diverse cuisine from countries such as Belgium, the Philippines and Serbia, saying that "ambassadors are expert entertainers and their spouses are often skilled at introducing the cuisine of their homeland to their foreign hosts". Robyn Lippert, wife of US Ambassador Mark Lippert who was injured in a knife attack in March, chose surf'n'turf as her American dish, and in return was shown how to cook traditional Korean grilled rib dish tteokgalbi by a local chef. The Lipperts have been praised since their arrival in Seoul last October for immersing themselves in the local culture and for speaking Korean in public.
The title of the "Cooking with Her Excellency" series doesn't change, even when "Her Excellency" is Peter Bullen, husband of the current Irish Ambassador, Aingeal O'Donoghue. He chose fish chowder to represent his country, telling the paper that Irish cuisine is "healthy, home-style cooking with lots of stews, homemade breads and potatoes", while making sure that both Guinness and Irish whiskey get a mention.
Next story: Armoured cars for Russian brides
Use #NewsfromElsewhere to stay up-to-date with our reports via Twitter.
Read full article South Korea: Envoys' spouses show off cooking skills