Afghan star burns controversial dress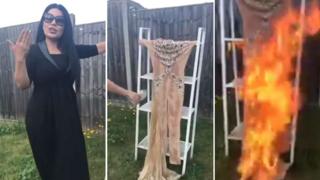 An Afghan singer and television personality has publicly burned a skin-coloured dress after religious figures and members of the public criticised her for wearing it during a recent concert.
Aryana Sayeed uploaded a video to her Facebook page, showing the contentious outfit going up in flames after it caused uproar in her native Afghanistan.
The controversial tight dress, which she wore at a concert in Paris on 13 May, sparked condemnation from religious figures and on social media, with several people saying it was against Afghan culture and non-Islamic.
She was certainly not pleased to be burning the dress, telling her more than 1.6m followers "If you think that the only problem in Afghanistan is this dress, I will set this on fire today because of you."
Ms Sayeed is well known in Afghanistan as a singer, songwriter and TV personality who sings pop, hip-hop and Afghan songs. She's also a judge on the Afghan version of The Voice talent show, which is aired by Kabul-based Tolo TV.
Aryana remains defiant