The disabled men who act as each other's arms and eyes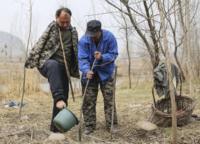 Two disabled men, one blind, one a double amputee, have spent over ten years planting trees together in rural China.
Every day Jia Haixia and Jia Wenqi walk to work carrying a hammer and a metal rod. Work is an eight-hectare plot of land they lease from the local government.
The route is a well-trodden one for them now - they've been heading to the same place for 13 years, and always with the aim to plant as many trees as possible in the area, to prevent their village from flooding and improve the environmental surroundings.
The two went to school together as children in the small village of Yeli in northeastern China. Wenqi says they have always been like brothers, there is only a year between them, and they are very close.
To get to their plot, Wenqi, a double arm amputee, leads the way through a forest, guiding Haixia, his blind friend, who holds his empty jacket sleeve. When they reach the river, he gets on Wenqi's back in order to cross the fast-moving water without falling.
Read full article The disabled men who act as each other's arms and eyes