How Spain was dragged into Nigeria's 'tomato emergency'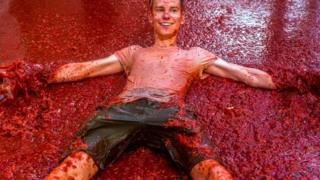 The streets of the eastern Spanish town of Bunol turn red and gooey every year on the last Wednesday of August, as tens of thousands of people gather to celebrate La Tomatina. It's not an event that has caused much of a stir on social media outside the country, but in the past few days Nigerians have been been distracting themselves from their own tomato crop crisis by making good-humoured jabs aimed at the European festival.
The topic of tomatoes - a staple of the Nigerian diet - is currently not a laughing matter outside the digital realm in Nigeria. A state of emergency has been declared in the tomato sector in Kaduna state, in the north of the country and farmers are said to have lost up to 80% of their tomato crop.
The culprit is a moth called Tuta Absoluta. The agriculture commissioner in Kaduna state said the price of a punnet has risen from $1.20USD to more than $40. Some reports said that in three local government areas, about 200 farmers lost 1 billion naira ($5.1 million) worth of their tomatoes.
Nigeria's Minister of Agriculture and Rural Development, Audu Ogbeh, told local media that his office had commissioned experts to look at the issue as "ordinary pesticides cannot tackle the disease because the tomato moth multiplies so fast."
The situation is so bad that it was dubbed 'Tomato Ebola' and the term trended on Twitter for hours on Wednesday.
Read full article How Spain was dragged into Nigeria's 'tomato emergency'