Breaking Bard: Ruining Shakespeare for fun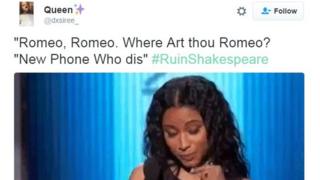 In this week of seismic political change in Europe, a deadly terror attack in Turkey and troubling protests by police officers in Rio, social media has not been finding much funny. However, a viral hashtag has been providing some respite. And it's all to do with Shakespeare.
When you think of Britain's contribution to culture, we bet the Bard crops up in your thoughts somewhere. This year marked the 400 year anniversary of William Shakespeare's death. And it's perhaps a good thing that he's not around to see how social media has been mangling his greatest work in the last few hours.
The hashtag #RuinShakespeare invited people to adapt the great playwright's works to contemporary times and, well, mess it up, and the internet happily delivered.
There were plenty of references to Millennial behaviour.
And those stalwarts of popular culture, the Kardashians.
Read full article Breaking Bard: Ruining Shakespeare for fun