David Cameron's 'thug life'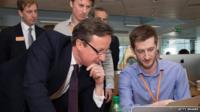 A parody video of David Cameron making a witty put down during Prime Minister's Questions has gone viral in the UK over the past few days.
During the exchange in March of last year, Labour's Stephen Pound asks the Prime Minister if he would be willing to disassociate himself from the "snobbish and disdainful" bingo and beer advertisement tweeted by the Conservative Party Chairman Grant Shapps (the ad said cuts in duty to beer and bingo would "help hardworking people do more of the things they enjoy" and was widely parodied at the time) . Cameron replies at length, ending with the phrase: "I am sure that you enjoy a game of bingo - it's the only time you will ever get close to Number 10".
In the video, a hip hop track ("Breathe" by Sean Paul) then cuts into PMQs as the words "THUG LIFE" appear on the screen. In other words, the video wryly celebrates Cameron's put down. It was first uploaded to YouTube by a young Conservative supporter called Harrison Harvey Hale at the beginning of February, but really started getting attention on social platforms when it was picked up on Tuesday by Lad Bible, a social media platform which targets men between the ages of 16-30, on their Facebook page. It was watched 3.6 million times in 24 hours, with around 100,000 'likes'.
Lad Bible told BBC Trending that they "do not support any political party and are not accepting any money from any political party to promote content". Politics is "a crucial part of their content mix," they say. Since they posted it, Conservative party supporters too have retweeted the film, as well as sharing other older "thug life" videos of David Cameron which have appeared on YouTube over the past few months. Comments on these videos often reference how pleased viewers are that politicians can engage in "witty banter". Those commenting seem to be mostly male and many of they young.
More generally, "thug life" parodies of politicians are a thing on the internet. They come as videos, vines and memes are shared by millions in the US. They started trending in the UK in big numbers earlier this year. Usually they glorify politicians by highlighting a key speech or phrase with hip hop music. David Cameron is not the only one to have the "thug life" treatment; a put down by Labour's Shadow Chancellor Ed Balls to the former Conservative Education Secretary Michael Gove has been viewed more than 16,000 times since it was posted last November, and Conservative Mayor of London Boris Johnson's description of the London Assembly as "great supine protoplasmic invertebrate jellies" has been viewed more than 36,000 times over the past two months . In the US where #thuglife is a popular hashtag on Twitter, a "thug life" video of Barak Obama's ad lib in his State of the Union Address has more than 430,000 views.