Louise Linton: The photo, the hashtags and the sarcasm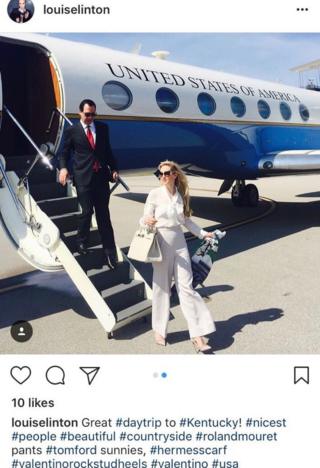 It's commonplace to post photos of trips and special occasions on social media, but as the actress Louise Linton found out, people didn't respond well to the hashtags she used in one of her posts.
Ms Linton, an Edinburgh-born actress who is married to the US Treasury Secretary Steve Mnuchin, posted on her Instagram account a photo of her and her husband disembarking a US Air Force jet in Kentucky, adding various hashtags of the designer labels she was wearing.
The post has since been made private, along with Louise Linton's Twitter account.
A Treasury Department official told the New York Times the Mnuchins reimbursed the government for the trip and that Ms Linton was not compensated by any of the labels she promoted with hashtags.
But it was not just the hashtags that created a storm - it was also her response to one person in particular that struck many. Writer Ali Yashar's post caught the Instagram comments in Ms Linton's post before it was blocked:
Read full article Louise Linton: The photo, the hashtags and the sarcasm