This week in Turkey: live streaming's political moment?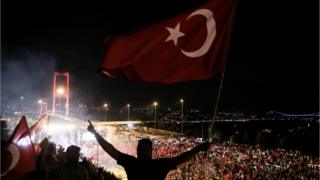 Live video stream apps, like Facebook Live and Periscope, seemed to be the medium of choice for a new digital generation in Turkey this week, as they spread the news of recent political turbulence to the world.
In January 1991, Peter Arnett reported live on CNN from the Al-Rashid hotel as the first air strikes of the Gulf war hit the Iraqi capital of Baghdad. This was the moment of CNN's pioneering 24-hour news channel, changing the information sharing landscape permanently.
Twenty years later, at Tahrir Square in Cairo, a new form of information sharing came into fruition. Egypt's citizen journalists flooded social media with still images of the toppling of government, communicating directly to a global audience. The role of digital media for the Arab Spring was even dubbed "Democracy's Fourth Wave".
Fast-forward to the present day. It's been a turbulent week in Turkey; a failed army coup attempt, a Wikileaks dump of 300,000 emails belonging to the ruling government party, and a declaration of a three month State of Emergency. And it all played out digitally over a span of 6 days - this time with live video streams at the fore.
Turkish President Erdogan's government, as regulars of BBC Trending will know, has tried to shut down entire social media networks in the past. On the night of the failed coup, it seemed briefly that old habits hadn't died out - Turkey's people received the majority of their information through social media platforms but they initially used VPNs to get around restrictions.
Read full article This week in Turkey: live streaming's political moment?