The woman who says that it's not only men who like to look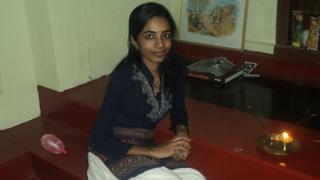 "You don't get pregnant from eye-contact".
One of the memorable lines from a Facebook post that has been liked more than 10,000 times. Its origin is the southern Indian state of Kerala. Its author a part-time teacher and accountant named Vanaja Vasudev.
Her post, written in the local language Malayalam, was a response to a bizarre comment by a local official, Kerala excise commissioner Rishiraj Singh, who claimed in a speech that a man who stares at a woman for more than 14 seconds could be jailed for harassment.
There is no such law and Singh's assertion has caused much amusement on social media. Though one news outlet published a video of a man's eyes staring for 14 seconds to give its viewers an impression of what the fictional offence would feel like from the point of view of the person being stared at.
However, Vasudev's point was that if such a law did exist then it would be a case of double standards.
Read full article The woman who says that it's not only men who like to look