Searching for Azam, an injured Syrian child somewhere in Europe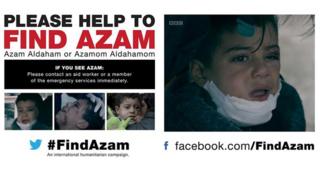 Among the thousands of Syrians now on the move across Europe is a 5-year-old boy named Azam - who was badly injured in what is believed to have been a car accident, and may still need medical attention. After he was featured in a BBC Panorama programme, people across the continent are using a Twitter hashtag to try and find him.
The search for Azam was begun by the public. After his story aired on the BBC's Panorama programme on 30 September, the hashtag "Find Azam" was started by Rosie Bloom, who tweeted: "A little boy, Azam, is out there with a broken jaw and no parents. That was the story to follow up on, Panorama". Others began tweeting at the BBC Panorama account and the personal account of presenter John Sweeney through the night.
The hashtag then began trending on Twitter in the UK on 1 October. Since then it has been used more than 8,000 times, in places including Austria, Germany, France and Sweden. For many of those commenting, the personal nature of the story was what resonated.
My meeting with Azam - John Sweeney, BBC Panorama
There was something immediately and obviously upsetting about the sight of him. Little Azam, aged five, had enormous brown eyes, a fizz of dark hair but an ugly black eye and a large bandage around his jaw, which was swollen and heavy.
We were in a reception centre - that's a fancy description for chaos in slow motion - just inside Serbia. The man carrying Azam was wearing a leather jacket and told us in Arabic that he had been injured in a car accident in Macedonia: "He was sleeping on the ground and a VW taxi ran him over."
Read full article Searching for Azam, an injured Syrian child somewhere in Europe