Ireland abortion: 'We can't keep painting over our problems'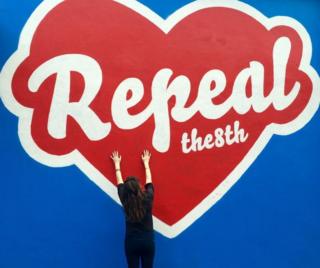 A mural featuring a large red heart with the words "Repeal the 8th" painted across it was unveiled on the wall of Dublin's Project Arts Centre nearly three weeks ago.
The work by the street artist Maser triggered a swift reaction on social media with many people sharing photographs of the artwork. But on Monday the mural was painted over after Dublin City Council took action. And then the outcry really started.
"Repeal the 8th" is a slogan used by those calling for the relaxation of abortion laws in the Republic of Ireland. It refers to the eighth amendment of the Irish constitution which "acknowledges the right to life of the unborn." The eight amendment essentially gives constitutional protection to an unborn child. It is seen as the foundation for the country's strict anti-abortion laws. But pro-choice campaigners in Ireland want a referendum to repeal that amendment.
So the painting over of the wall was interpreted by some as a political act. There was a surge in the popularity of the hashtag #repealthe8th by people using it to criticise what they regarded as an attempt to stifle debate.
Project Arts Centre said that it had decided to remove the mural after receiving a warning notice from Dublin City Council Planning Department that the work was in violation of a local authority building law, and not because it wanted to censor Maser or his art. There had reportedly been 50 complaints about the design.
Read full article Ireland abortion: 'We can't keep painting over our problems'