They begged their heroes to come - but will they listen?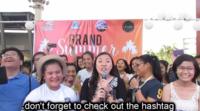 A co-ordinated effort by die-hard YouTube fans in the Philippines has caught the attention of some of the site's most famous video bloggers, but will they follow through on promises to visit the country?
The Philippines has one of the youngest and fastest-growing populations in Asia and a huge social media fan base to match. Despite that, Manila does not always head the list of destinations for top YouTube stars - a fact that a concerted effort by young Filipinos aimed to change.
Earlier this week the hashtag #BringYouTubersToManila hit Twitter's list of top worldwide trends. It was a co-ordinated effort by Filipino "street teams" - not, as you might expect, groups of young people in matching T-shirts giving out free samples of yogurt near train stations, but rather online fans of popular YouTubers such as Zoella, Marcus Butler and Alfie Deyes of Pointless Blog.
The street teams are a big force online in the country, and after a failed attempt last year to make the hashtag trend, more than a thousand YouTube fans gathered at Manila's "Grand Summer Party" (a sort of festival for YouTube fans) where a plan was hatched to co-ordinate messages at an exact time, bombarding Twitter with super-fandom.
It worked. More than 200,000 people tweeted #BringYouTubersToManila and some of YouTube's most famous stars started to pay attention:



Read full article They begged their heroes to come - but will they listen?