Clinton v Trump: Five Twitter takeaways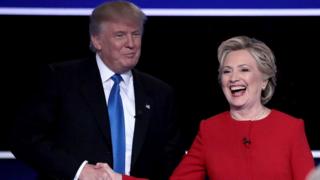 It was one of the most anticipated political debates of modern times - and the hype was only amplified by social media.
But what did we actually learn from the millions of tweets sent about Monday night's presidential debate?
The raw numbers
On Twitter the debate racked up numbers more commonly seen during international sporting events or shocking breaking news. Nearly five million tweets were sent out using hashtags #DebateNight and #Debates2016.
To put that into perspective, that's about 20 times the comparable number sent during the first big showdown of the UK 2015 general election - considered at the time to be a massive online political event.
And one candidate dominated the majority of the conversation: Twitter's communications team estimated that 62% of tweets were about Trump.
The phrases that cut through