The NHS mental health chief who had a nervous breakdown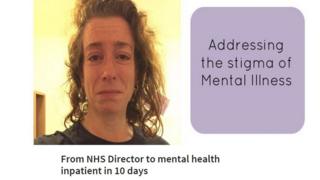 "Perhaps not the most flattering photo of me, but I'm sharing this awful picture and my story to help increase understanding of the impact of mental illness and to celebrate my recovery."
"As I have worked in mental health services for 29 years, one would think I would be immune to mental illness."
In a LinkedIn post that has been shared more than 5,000 times, Mandy Stevens shared a photo of herself, red-eyed with matted hair, in the midst of a depressive episode that resulted in her being hospitalised. She wrote the post on the day she was discharged from a 12 week stay on the inpatient ward at the City and Hackney Centre for Mental Health in London.
One thing that struck many people who read Stevens' post on the online professional network was her unique vantage point - she has been both an employee and patient of the UK's National Health Service mental health programme.
Stevens began her career in the NHS as a mental health nurse. After 15 years she became a hospital manager, and then a director.
Read full article The NHS mental health chief who had a nervous breakdown