Public sector job cuts 'to hit Wales and North'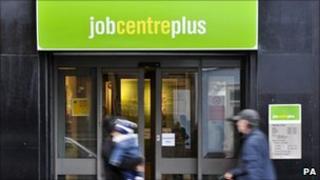 At least one in 10 people will be unemployed in half of UK regions by 2015, an economic think tank has forecast.
According to the Centre for Economics and Business Research (CEBR), the unemployment rate will exceed 10% in Wales and the North of England.
The CEBR blamed expected huge cuts to public sector jobs.
London and the South of England are expected to escape the worst of the job losses, however.
The report warns unemployment could reach as high as 11% in Wales and the North East of England - both regions where many people are dependent on the public sector for work.
Public spending 'unsustainable'
However the researchers predict south east and south west England will see jobless rates peak at 7% and 8% respectively.
London, the South East and the South West are expected to grow their share of the UK's economic activity, the CEBR says, helping them to avoid the worst of the job losses.
London is expected to account for 20% of the economy by 2015, thanks to the expected continued growth in financial services.
In contrast, the rest of the UK is expected to see its share of economic activity fall, with the North West seeing the biggest fall.
Speaking to the BBC, the CEBR's chief executive Douglas McWilliams said that Wales in particular could suffer because of the number of public sector jobs there.
"Those regions which are currently very dependent on the public sector are likely to suffer a lot more as the public sector gets cut," he said.
"Wales is probably going to be region that's going to be hit most by this, but also regions like the North West and the West Midlands.
"In Wales there has been a massive growth in public spending in the last few years, and that's probably unsustainable."
The government is due to detail its planned spending cuts later this year, following a comprehensive spending review.
Earlier this month, figures showed unemployment in the UK fell to 2.49 million, with the rate of unemployment at 7.8%.
"The gloomy figures released in this report may come as a surprise to some given the tentative signs of recovery in the UK labour market over recent months," said Owen James, an economist at CEBR.
"Ignoring the scale of public sector job cuts over the forecast period, however, would be misleading, as would any view that the cuts will not hit some regions harder than others."
He added that private sector jobs would also be hit, where private companies rely on public sector contracts.