US consumer confidence rises marginally sparking rally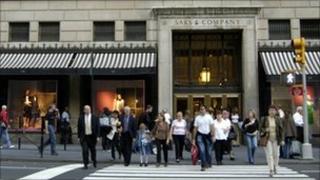 US consumer confidence picked up slightly more than expected in August, giving Wall Street a boost.
The monthly survey from the Conference Board gave an index reading of 53.5, up from a revised 51 in July.
It followed a widely expected drop in US business sentiment, also released earlier.
US stocks rose strongly on the consumer confidence figures, with the Dow Jones index climbing over 1%, breaking back through the 10,000-point level.
Job worries
Despite the warm reception from markets, the Conference Board noted that overall, consumers remained apprehensive about the future, particularly when it comes to the labour market.
Some 45.7% of those who responded to the survey said jobs were "hard to get", marginally higher than July's 45.1%.
US shares had been sliding steadily since disappointing personal income data for July was announced on Monday morning.
However, the latest consumer confidence figure chimes with Monday's data, which also showed that consumers were spending a bigger share of their income.
Meanwhile, the Institute of Supply Managers released its latest business barometer.
It registered a drop to 56.7 in August, from 62.3 in July, in line with expectations. A level above 50 indicates expansion.
House prices
Also on Tuesday, rating agency Standard & Poor's (S&P) revealed that house prices continued to rise gradually in the second quarter of the year.
The agency's Case-Shiller index, which tracks prices across 20 US cities, rose 4.4% in the three months ending in June, on a seasonally-adjusted basis.
The rise was not unexpected, as it coincided with a flurry of market activity ahead of the June deadline for a tax credit of up to $8,000 for buyers of existing homes.
House sales data released last week indicated that the market froze in July following the expiry of the tax credit - with sales volumes down 27%.
"Housing prices have rebounded from crisis lows, but other recent housing indicators point to more ominous signals as tax incentives have ended and foreclosures continue," said S&P in its report.