Lehman Brothers' boss says firm could have been helped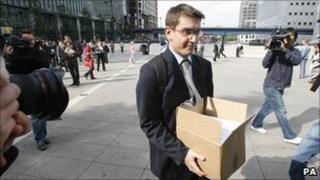 The former head of Lehman Brothers has blamed regulators for the collapse of the Wall Street investment bank.
Dick Fuld said that Lehman was denied the help that regulators gave to other struggling banks.
He told a commission examining the financial crisis that regulators rejected a series of measures that would have helped Lehman.
The firm filed for bankruptcy in September 2008, a move widely seen as aggravating the global crisis.
Mr Fuld was appearing before the Financial Crisis Inquiry Commission (FCIC).
The former Lehman chief executive, who has given evidence to the FCIC several times, said he proposed a package of measures that could have saved or allowed the orderly unwinding of the firm.
Denied
On Sunday 14 September, the day Lehman was told to file for bankruptcy, regulators were preparing to extend credit lines to other firms, he said.
"Only Lehman was denied that expanded access. I submit, that had Lehman been granted that same access as its competitors, even as late as that Sunday evening, Lehman would have had time for at least an orderly wind down or for an acquisition which would have alleviated the crisis that ensued," Mr Fuld said.
"But Lehman was the only firm that was mandated by government regulators to file for bankruptcy. The government then was forced to intervene to protect those other firms and the entire financial system," he said.
He said regulators "used flawed information" to assess Lehman's financial health, which was never as bad as market rumours maintained.
Mr Fuld does not name regulators in his statement, although the Federal Reserve Bank of New York, US Treasury, and Securities and Exchange Commission were integral to attempts to prop up Wall Street.
He said that much more could have been done by regulators to save Lehman, a view that appeared to receive a measure of support from the chairman of the FCIC, Phil Angelides.
"It seems to me that over a period of months what ends up being made is a conscious policy decision not to rescue the entity," Mr Angelides said.
"It also looks like there are political considerations at play," he added.
However, Thomas Baxter, general counsel of the New York Fed, told the hearing that every effort was made to save Lehman.
"We did not succeed, but the effort made was serious and determined. We came very close," he said. "Rest assured commissioners... it wasn't about politics. It was about getting the right result."