Afghan Central Bank head says he will defend Kabul Bank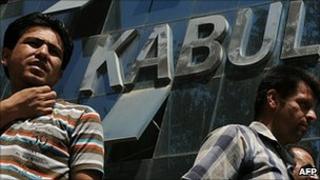 The governor of Afghanistan's central bank has told the BBC he will not allow the country's largest commercial bank to collapse.
His comments follow the resignation of the top two executives of Kabul Bank, amid allegations of corruption and mismanagement.
Their departure has prompted crowds of account-holders to converge on the bank to withdraw their money.
The bank is crucial as it handles payments to government workers.
The fear is that Kabul Bank has run up huge debts that it cannot afford to pay.
The New York Times and the Wall Street Journal reported on Wednesday that Kabul Bank's losses could exceed $300m (£194m) - and that the figure is more than the bank's assets.
If it were to collapse, the damage to Afghanistan's economy would be severe.
Unclear debts
Hundreds of thousands of savers would be affected, including many government employees.
So far, a run on the bank has been averted, though the scale of its debts remains unclear.
The governor of the Central Bank, Abdul Qadir Fitrat, said at a news conference that Sherkhan Farnood, the former chairman of Kabul Bank, and Khalilullah Ferozi, the former chief executive officer, voluntarily resigned because, under new reforms, only banking professionals can hold the top operating positions at banks.
The two each own 28% of the bank's shares.
Mr Fitrat admitted that at some branches, there had been a rush of customers seeking to withdraw their money, and that the bank had had trouble paying them.
But Mr Fitrat told the BBC's Kabul correspondent, Mark Dummett, that the central bank was putting more money in, so there should be nothing to worry about.
"We have supplied as much cash to branches of Kabul Banks as possible," he said. "The Kabul Bank collapse is not an option."
The central bank governor went on to say that the Afghan government would continue to pay its employees through Kabul Bank as usual.