Macquarie shares down on profit warning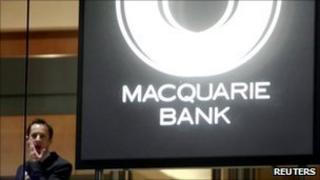 Shares in Australia's biggest investment bank, Macquarie, fell sharply after the company cut its profits forecast.
Macquarie said weak global markets were hitting earnings at its key units, including currencies and commodities.
First-half profits would be 25% lower than the same period a year earlier, the bank said. Analysts had been expecting an 11% rise.
At one point the shares were down by 8%, although they finished down 4.7%
The shares closed at A$35.25, a 15-month low.
It not only said net profit for the first half would drop sharply, but also forecast that full-year profit would only match last year's level.
It also reiterated that uncertain conditions made short-term forecasting "very difficult".
The forecasts follow two earlier warnings on market conditions and come as analysts and investors call on the bank to either cut jobs or pay to protect earnings.
Macquarie earns almost half of its revenue in Australia, but has seen its dominance at home slip.