China imports in surprise August surge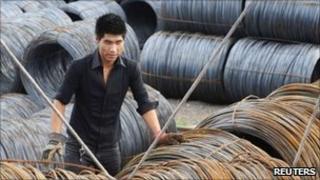 China reported a surprise surge in imports during August, leading to a fall in its trade surplus to $20bn (£13bn).
Imports rose 35.2% from a year ago, faster than the 26.1% markets expected.
This means that imports grew slightly faster than exports, which rose by only 34.4%, as expected.
The news, which follows a surprising contraction in the US trade deficit in July, may weaken critics of China's trade practices in the US.
Down but not out
The US Congress is due to hold hearings next week on China's controversial exchange rate policy.
Many politicians and economists accuse the Chinese of keeping the yuan weak in order to make its exports unfairly competitive.
Despite shrinking slightly, China's trade surplus in August was still its third consecutive monthly surplus in excess of $20bn.
Last Updated at 22 Feb 2018, 13:00 GMT
$1 buys
change
%
6.3603

+

+0.02

+

+0.25
On Friday, the People's Bank of China allowed the yuan to appreciate against the dollar to its strongest level since Beijing weakened its strict currency peg in June.
The Chinese currency was fixed at $6.768 for the day, meaning it has been allowed to strengthen a mere 0.9% since the change in exchange rate policy.
Chinese steel exports fell 38% versus the previous month, as widely anticipated, after a 9% tax credit from Beijing for exporters was allowed to expire.
Imports of iron ore - processed by China into exportable steel - also fell 13% from July for the same reason.
Chinese shares fell back on the latest trade figures, following signs that net exports - a key driver of Chinese growth - may be flagging.
The Shanghai composite index, and the Hang Seng index in Hong Kong, dropped by about 0.5% on the announcement.