India raises interest rates for fifth time this year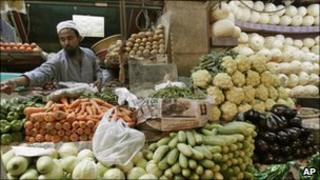 India's central bank has raised interest rates by more than expected as it continues to battle high inflation.
The Reserve Bank of India increased its repo rate - the rate at which it lends to banks - to 6% from 5.75%.
It raised the reverse repo rate - the rate at which it borrows from banks - to 5% from 4.5%. Economists had expected a rise to 4.75%.
It is the fifth rate hike this year as India has faced double-digit inflation, although it fell to 8.5% in August.
The fall - from 9.8% the previous month - was partly due to changes in the way it is calculated to include a wider range of consumer goods.
Under the old system, August's inflation rate would have been 9.5%.
"Inflation remains the dominant concern," the central bank said.
"Essentially, inflation rates have reached a plateau, but are likely to remain at unacceptably high levels for some months."
'Aggressive stance'
Despite the drop in August's inflation rate, the bank would like to see prices rising in line with historical norms of 5% to 5.5%.
It added that the measures taken should contain inflation without disrupting growth.
India's economy grew by 8.8% in the April-to-June quarter, its fastest pace for more than two years.
"The RBI has taken an aggressive stance, giving higher priority to fight inflation against robust growth and rising asset prices," commented Moses Harding, head of global markets at IndusInd Bank in Mumbai.
"This tough stance, despite maintaining tight liquidity and with the repo rate remaining operative, is indeed a hawkish stance."