Consumers face higher overseas card charges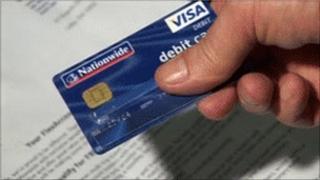 Chillier winds are starting to blow through Europe's holiday hot spots.
The same can also be said about the charges being levied on UK card holders using their debit cards abroad.
In a couple of months' time, the Nationwide building society is to withdraw its popular commission-free service, and charge a fee when its debit card is used abroad.
Most other current account debit cards now rack up charges each time we buy something or withdraw currency - up to £4 for every £100 spent.
And that is on top of the exchange costs and any additional fees.
Lower charge
The terms of the Nationwide Flexaccount are now being changed to reward loyal customers at the expense of those who have just opened an account to get the overseas benefits.
There will be some free travel insurance, but commission-free withdrawals abroad are to go.
The result is that many say they will ditch their Nationwide Flexaccounts, even though the building society insists that after the changes its fees will still be lower than those of most competitors.
"Many competitors charge a higher level of 2.75%," says the Nationwide.
"Our charge of 2% is the lowest charge in the market on a mass-market current account.
"That means when a customer spends £1,000 abroad, they will be charged at least £15 less than those with other providers," it adds.
The changes
For years the Nationwide debit card has been the card holidaymakers have been advised to use. Many people got a card purely for this purpose.
Currently anyone using the building society's debit card in Europe does not have to pay a charge, though they do pay a fee of 1% outside the eurozone.
From 1 November, Nationwide will levy a 2% charge on transactions.
That is a foreign exchange fee that you will pay whenever you use your card, whether you are buying something or taking money out of cash machine.
It will also also levy a £1 cash-withdrawal fee when the card is used overseas. This will replace the current 1% currency-conversion charge levied at present.
This does not apply to the society's credit card holders.
Nationwide is keeping its overseas usage charges at 1% on purchases made outside the EU, and free within the EU.
'Subsidy'
The UK Cards Association, which represents card issuers, says Britons have tripled their use of cards abroad in the last decade.
Last year, Britons spent about £12.5bn on debit cards outside the UK, and a slightly larger amount (£12.8bn) on credit cards.
Sandra Quinn of the association says it is simply a commercial decision by banks as to which charges they should absorb, and which they decide to pass on.
"If you use your debit card in an ATM overseas, that foreign cash machine owner is definitely charging your bank for the transaction," Sandra Quinn says.
"Now it may be that you are not paying your bank for the service, but they are definitely paying fees to somebody - they have to subsidise the use from some other part of their business."
Alternatives
Seasoned card-watchers like David Black, a banking specialist with analysts Defaqto, have spotted that there are a few cheaper debit card alternatives out there.
"Metro Bank, which has just launched, doesn't charge any fees for overseas use of its debit card, but you have to visit a branch to open an account, and it is only based in London at the moment," says Mr Black.
"Beyond that, if you have a mortgage or investment with Santander, you can open a Zero current account which again doesn't levy any charges for use of its debit card overseas."
Some consumers travelling abroad for work or business may find credit cards or pre-loaded foreign currency cards may offer better value for making purchases abroad.
However, the Consumer Magazine Which? has detected a general trend towards both higher and hidden charges, which the banks are increasingly relying on as a source of revenue.
James Daley, editor of Money Which?, says that such fees have gradually crept up in the past 10 or 15 years and are now being used to bolster bank profits
"What's difficult for consumers is that the fees are not visible on statements," warns Mr Daley.
"There is an initial fee which may be worked into the exchange rate, then transaction fees which do appear on your statement, but you can be paying £20 or £30 more for a short trip abroad, just to get hold of your money.
"These fees just often aren't proportional," he says.
With consumer pressure on the banks at home, they may collectively feel that its easier to levy higher charges abroad.
It remains to be seen if large numbers of savvy customers cotton on, and choose to move to providers offering a better deal to overseas travellers who want cheaper access to their own money.