Five charged in £66m corrupt engineering contracts case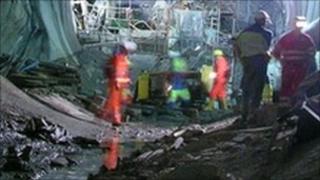 Five men have appeared in court following a two-year investigation into allegations of corruption by the Serious Fraud Office and the City of London Police.
The inquiry centred on whether inside information was being offered to companies bidding for contracts in major engineering projects in the energy sector.
The five men were charged with offences of conspiracy to corrupt.
The value of the contracts is £66m.
The charges, brought at the City of London Magistrates' Court, related to periods between January 1 2001 and August 31 2009.
Some of the defendants were employed by the companies responsible for the procurement of these projects and are alleged to have passed confidential information to others - who then offered to provide it to companies bidding for the contracts in return for a percentage of the contract value.
The defendants are: Andrew Charles Rybak (54) of Newbury, Berkshire; Ronald Gwyn Saunders (63) of Hook, Hampshire; Philip John Hammond (56) of London; Barry James Smith (70) of Farnham, Surrey and Robert Bruce McWaters Storey (66) of Windlesham, Surrey.