Japanese consumer lender Takefuji files for bankruptcy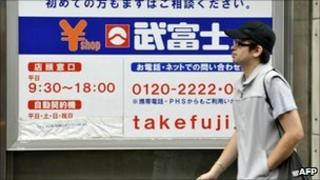 Japanese consumer lender Takefuji Corporation has said it has filed for bankruptcy.
The corporation said it had a debt of 433.6bn yen ($5.1bn;, £3.2bn), making it the biggest consumer lender to fail.
Its problems stem from 2006, when a court ruled that it, and other lenders, had charged illegally high interest rates and must repay borrowers.
The retail lending sector was dealt another heavy blow after new rules in June limiting the size of loans.
These restricted borrowing to up to one-third of a customer's annual salary.
The regulations also lowered the maximum rate of interest lenders could charge to 20% from a maximum of 29.2%.
Takefuji, one of the top four consumer lenders in Japan, lacked ties with any of the country's big banks, forcing it to apply for court protection from creditors.