Japanese business confidence up despite strong yen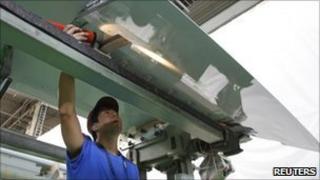 Japanese business confidence has continued to rise, despite the strong yen, but is expected to turn gloomy.
The Bank of Japan's Tankan survey rose to a marginally positive 8 from 1 in June. A reading of zero is neutral.
But the big manufacturers questioned said they expected confidence to fall back to -1 by the end of the year.
Japanese exporters have been hurt by the strong yen, which has fallen below 84 to the dollar again, despite government intervention to weaken it.
The dollar buys fewer yen as the Japanese currency strengthens.
The Tankan survey of 11,000 companies is carried out every quarter by Japan's central bank.
The survey, which reports the percentage of optimistic firms minus the percentage of pessimistic ones, hit a record low of -58 in early 2009, but has steadily recovered since then.
But manufacturers now expect the reading to fall back into negative territory by December, thanks to the strong yen, while company investment plans were weaker than previously forecast.
The Nikkei stock market index initially jumped 0.6% on the stronger-than-expected survey result, before falling back again in late morning trading.
Currency
Last Updated at 23 Mar 2018, 23:10 GMT
$1 buys
change
%
104.7450

-

-0.01

-

-0.01
Japanese manufacturers rely heavily on exports to the US and elsewhere, so the strength of the yen against the dollar since the 2008 financial crisis has undermined their international competitiveness.
In August, Japanese exports grew at their slowest rate this year.
In currency markets, the yen returned on Wednesday to the level against the dollar that previously triggered intervention by the Bank of Japan to weaken the currency.
The yen was trading at about 83.7 at 0700 BST, nearing its low of 82.88 of two weeks ago.
The Tankan survey reported that companies expect the yen to average 89.66 over the course of the fiscal year ending in April.
This is weaker than the current level, suggesting businesses expect the central bank's interventions to be successful, but is stronger than the previous survey expectation of 90.18.