Are the charges of charity-giving websites fair?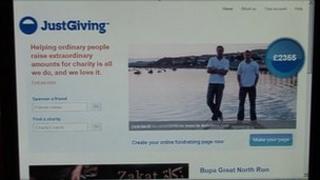 People raising money for charity through sponsored events are concerned at the amount of money being retained by some charity donation websites.
They provide handy pages for fund-raisers to sign up sponsors.
Donations can easily be made online and the money is passed direct to the charities.
In particular, the focus is on JustGiving, the market-leader which handles 85% of online giving and works with 9,000 good causes.
It charges the charities £15 a month to be on its system.
But although JustGiving describes itself as a "social business", it is a commercial venture and takes 5 pence in every pound out of all straight donations.
Prominent
Kate Rice, 27, is one of a group of south London runners who have used JustGiving, but say they will change the donation site they use for their next sponsored event.
Kate and three friends have just completed the Great South Run and raised more than £600 for the Alzheimers Research Trust, which works with JustGiving.
Kate acknowledges she read about all the fees and charges which are prominently stated on the website.
But she says she was sad to find out afterwards that more money would have been passed on if she had gone elsewhere, to one of a number of similar sites.
"When we agreed to do the run, the Alzheimers Research Trust sent us a link and asked us to use JustGiving," Kate said.
"But we did not find out of there were others we could have gone to, which do not take such a cut.
"Obviously, they need to cover their administration and other costs, but there are surely other ways they could do it, such as taking advertising," she said.
'Recommended'
The BBC asked to see JustGiving to discuss its fees and charges, but the company's chief executive declined to be interviewed.
Instead the company gave us a statement and said:
"Charities recommend JustGiving to their supporters for one simple reason: our site helps them raise more money than any other method," it said.
"In 2010, JustGiving users will raise over £200m for good causes.
"What makes this success possible is the constant re-investment we make in the latest technologies and services ....for the benefit of charities," it added.
It also pointed out that its take is calculated at a lower rate if users opt for Gift Aid, which allows charities to reclaim tax.
'Covering costs'
Other giving sites which currently hand over more money to their charity clients include B My Charity, Virgin Money Giving, Charity Giving, The Big Give and EveryClick.
One organisation concerned about fees and charges is the Small Charities Coalition.
Its chief executive, Cath Lee, says charities and their donors should do their research carefully.
Many may not realise some sites are profit-making, and others are not.
But she feels the current charging structure used by the market leader JustGiving puts small charities at a disadvantage.
"We live in the real world and obviously these sites do need to cover their costs," said Cath.
"Every penny or pound [charities] have to spend out on administration fees or support functions is money they could have spent on the people they are there to help," she said.
Maximising funds
Another charity fundraiser is Farhann Cachra.
He is the project leader of "Bike 4 Life, Mali 2010" which is an event in aid of Focus Humanitarian Assistance.
It is in its eighth year and they have always used JustGiving.
But at the start of this year, they decided to look at what else was out there and changed to Virgin Money because they have lower fees and, he says, a better service.
"I was quite surprised at the difference it makes financially for a charity.. It does affect the bottom line," said Farhann.
"It's really important that we maximise the funds and that was the main reason for switching."
For anyone who wants to make sure the largest amount possible reaches the charity of their choice, the best advice is to look carefully at the fees and charges on each website.