China manufacturing speeds up despite flat exports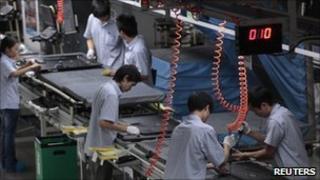 China's manufacturing sector picked up more speed in October, despite exports remaining subdued, two reports show.
The official purchasing managers' index (PMI) rose to 54.7, from 53.9 in September and 51.7 in August. Readings above 50 indicate expansion.
The result was driven by rising transport and general equipment orders, thanks to strong state-sponsored investment in infrastructure.
The trends were confirmed by a separate report from HSBC bank.
Like the official PMI from the China Federation of Logistics Purchasing (CFLP), the HSBC report on China produced by data services company Markit "suggests strong growth momentum in domestic demand," said HSBC chief economist for China, Qu Hongbin.
He predicts a 9% growth rate in the fourth quarter - moderately slower than the 9.6% already announced for the third quarter - despite the "still soft increase in new export orders".
Price pressures
The official CFLP report has remained above 50 - indicating expansion of the manufacturing sector - for all of the last 20 months, as the government pushed an investment splurge to offset the effect of the global recession.
Spending on new projects in the first nine months of this year was up 25% on a year ago.
The data was particularly strong as it coincided with an annual week-long national holiday, which normally causes a small drop in the index during the month of October.
Stock markets reacted well, with the Shanghai Composite index ending the day up 2.5%, while Hong Kong's Hang Seng rose 2%.
But it will add to concerns about rising inflation at China's central bank.
The People's Bank of China raised interest rates by 0.25% last week, in the hope that - along with moderate strengthening of the yuan - this may stabilise rising prices.
However, the CFLP report showed that manufacturers continue to report a high and rising cost of raw materials, particularly for cotton and rubber.
Contrasting fortunes
Data from other big Asian economies gave a more mixed picture.
Like China, India saw further growth in manufacturing in October, according to HSBC.
The bank's PMI for India rose to 57.2 from 55.1 the month before.
As with China, the expansion was fuelled by growing domestic demand, while exports remained relatively subdued.
Last Updated at 21 Sep 2017, 10:02 GMT
$1 buys
change
%
112.4200

+

+0.22

+

+0.19
South Korea and Japan in contrast showed further signs of a possible contraction.
In Japan - where the government warned last month of an economic standstill due to the strong yen - car sales fell 27% compared with a year ago, to their lowest October level on record.
The drop was in part due to the expiry at the end of September of a government subsidy for environmentally friendly cars.
Meanwhile, South Korea's manufacturing PMI, also commissioned by HSBC, fell to 46.7 in October from 48.8 in September, indicating that the sector's contraction steepened in the month.
While current exports have risen some 30% over the last year, the survey indicated that new export orders for Korean firms contracted in October for the first time since February last year.