Paris Club cancels more than half of DR Congo's debt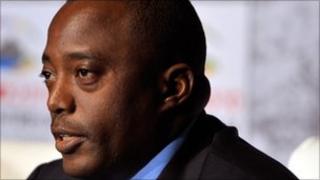 The Paris Club of creditor nations has cancelled $7.35bn (£4.6bn) of debt owed by the Democratic Republic of Congo.
The deal was agreed following a meeting between representatives of Paris Club members and senior figures from the DR Congo government.
In a statement, the Paris Club said the figure represented more than half of DR Congo's foreign debt.
It added that the DR Congo government had pledged more work to reduce poverty.
The Paris Club also expressed "concern" at the country's business environment and called on the government to improve governance, increase the rule of law and tackle corruption.
The Paris Club, formed in 1956, is an informal group of creditor governments from major industrialised nations.
DR Congo is the third-largest country in Africa.
While it has vast natural resources, the country is still recovering from a five-year civil war between 1998 and 2003.
The eastern regions of the country are still plagued by militia violence.