Christmas online shopping 'hits peak'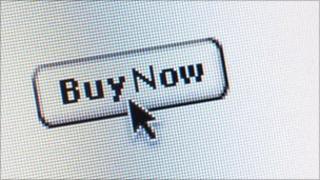 UK internet traders expect Monday to be the busiest online shopping day before Christmas, a survey suggests.
And authorities are urging people to be aware of the extra protection in place for those who buy items on the internet.
The Department for Business said £6.4bn could be spent online over Christmas.
Shoppers generally have a seven-day cooling-off period for any items bought online - regardless of the reasons for returning them.
"What I want are confident consumers who can stand up for their rights and get a good deal," said Consumer Minister Ed Davey.
"This is especially important when times are tight and everyone wants to make sure they have value for money."
Shopping
The busiest shopping day of the year on the High Street tends to be on or around 18 December.
However, in order to give time for items ordered online to be delivered, the busiest day in the online shopping calendar comes earlier.
Some £537m will be spent on Monday, a survey of 50 retailers by the Centre for Retail Research, commissioned by online shopping website Kelkoo, has predicted.
It estimated that 17p for every £1 spent during the festive period would be spent online.
Fashion, including footwear and clothing, would be the most popular category, followed by gadgets and consumer electronics.
Consumers' rights when shopping for Christmas items include:
A seven-day cooling-off period for goods bought online - unless these items are perishable, personalised or damaged by the recipient
Goods should be returned to the retailer, not the manufacturer
Proof of purchase can include paperwork such as credit card statements - not just a receipt
Unlike online, there is no legal right to return items bought on the High Street just because the buyer decides they do not like it.
"A savvy shopper that has done their homework before hitting the shops will not only be able to pick up the best bargains but will also be able to resolve any problems with their purchase quickly," said Michele Shambrook, operations manager for helpline Consumer Direct.