Irish Republic's plan fails to allay worries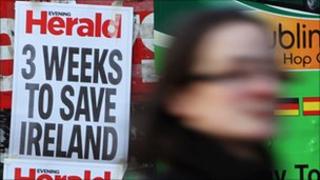 The Republic of Ireland's austerity plan has failed to ease fears about the financial health of Europe's economies.
Borrowing costs for the governments of Portugal, Spain and the Republic of Ireland remained at record levels.
And although major European bourses closed higher, traders said it was due to better economic news from America.
"It gets to a point where after you've had a couple of austerity budgets, they all look very much alike," said Philip Shaw, chief economist at Investec.
Irish Finance Minister Brian Lenihan highlighted the impact that market volatility can have.
"We have very substantial cash reserves as a sovereign and yet we're agreeing to join the European facility and the IMF because of the degree of [market] turbulence," he told the BBC.
But he said his country had been forced into it because of the concern that its debt-ridden banking system was too big for it to manage and control.
"I don't want to criticise the markets but markets are volatile," he went on.
"When we return to the markets I think the markets will realise that our story is a lot more credible than other countries in the eurozone."
Rising bond yields
The yield on Irish government 10-year bonds was 8.92%, which is almost at the record level reached before the bail-out talks began earlier this month.
The Republic does not need to borrow more money from the markets at present, so the rising yields - or higher cost of borrowing - do not affect it directly at the moment.
But rising bond yields are an indication that investors consider a country to be at greater risk of being unable to pay back its loans.
Many analysts fear that after the Irish Republic's bail-out, Portugal, too, will need money from the European Union and International Monetary Fund.
The interest rate on 10-year Portuguese bonds broke past the 7% barrier while 10-year Spanish bonds rose to 5.08%.
The Spanish-German 10-year government bond yield spread was at a euro-lifetime high of 2.6%.
The equivalent Portuguese spread touched a euro-lifetime record 4.8%.
Meanwhile, the euro, which had been weakening against the dollar, edged up by just 0.08% to $1.3382, underlining continuing concerns about the European debt crisis.
Last Updated at 23 Mar 2018, 21:46 GMT
*Chart shows local time
| €1 buys | change | % |
| --- | --- | --- |
| 1.2355 | 0.00 | +0.00 |
'Fear'
"The fear in bond markets is now being concentrated on the Iberian peninsula," said Investec's Mr Shaw.
Major European stock markets closed up, with the FTSE 100 1.4% better and Germany's Dax index up 1.7%.
But investors said that there was little of surprise in the Irish announcement, and that share prices were driven by other factors.
Concern is now expected to focus on debt problems in Portugal and the larger Spanish economy.
"The continued political turmoil in Ireland appears to have become almost secondary as fears about a Spanish contagion roiled investors," said Michael Hewson, market analyst at CMC Markets.
He said fears are rising "that European leaders are starting to lose control of the situation, in what could fast become a slow motion train wreck".
Spain accounts for about 10% of the eurozone economy, against the Republic of Ireland and Portugal, which account for about 2% each.