German business confidence hits 20-year high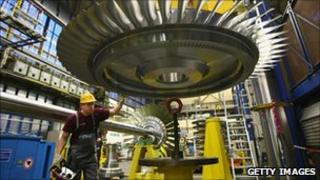 German business confidence has hit its highest level since reunification, providing further evidence of the country's strong economic recovery, a closely-watched survey suggests.
The Ifo Business Climate Index climbed to 109.3 in November, up from 107.7 the previous month, defying analysts' predictions of a slight fall.
"The upswing in the economy is gaining more and more strength," Ifo said.
The survey comes at a time when the Irish debt crisis has hit the euro.
The currency has fallen more than three cents against the dollar this week, to $1.3313.
The Irish Republic is currently negotiating with the European Union and International Monetary Fund about a bail-out package thought to be worth about 85bn euros ($114bn; £72bn).
Analysts said the German confidence figures provided a much needed boost in light of the debt crisis which threatens to spread to other European countries with high budget deficits.
"Maybe it is a miracle after all," said Carsten Brzeski from ING.
"Amidst new financial market turmoil and sovereign debt woes in the eurozone, the German economy seems to be an island of happiness."
Germany is currently the growth-engine in Europe, experiencing strong expansion when many of its neighbours' economies are stagnating or growing much more slowly.