India to open new consulate in Sri Lanka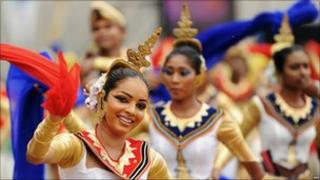 India's foreign minister is to open one of two new consulates in Sri Lanka in what is being seen as an attempt to check growing Chinese influence there.
SM Krishna will travel to the town of Hambantota to open the consulate. A second one is to open in Jaffna.
India is expected to pledge up to $1.7bn in loans and aid for Sri Lanka to be spent over the next three years.
Delhi is concerned that its considerable influence in Sri Lanka may be undermined by China's efforts.
The BBC's Sanjoy Majumder in Delhi says India, which has a large Tamil population of its own, wields considerable influence in Sri Lanka and is a major backer of the government of President Mahinda Rajapaksa.
But he says India is concerned at China's plan to spend more than $3bn in Sri Lanka which it fears may undermine its standing.
Hambantota, in the south of Sri Lanka, is the site of a Chinese-funded port, one of several that China is building in the region, including in Bangladesh and Pakistan.
Indian officials say a part of the $1.7bn aid package will be used to modernise a harbour in Jaffna in the Tamil-dominated far north and once the centre of the country's civil war.
The rest of the money will be used for infrastructure projects elsewhere.
Analysts say as India and China jostle for influence in the Indian Ocean region, Sri Lanka seems to be benefiting economically.