Asia shares fall on China squeeze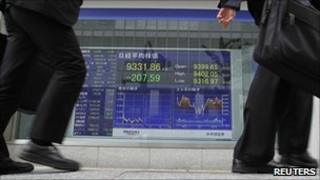 Asian shares have fallen after the Chinese financial system was hit by a funding squeeze.
New rules introduced on Monday mean Chinese banks must keep more cash in reserve, leaving less cash that might find its way into the stock market.
There are also fears interest rates may have to rise soon to tackle inflation, making borrowing more costly.
Japan's Nikkei fell 1.9%, and in China the Shanghai Composite Index fell 3.4%. Hong Kong's Hang Seng index shed 1.1%.
European shares fell on Monday on fears a 85bn-euros ($113bn; £72bn) Irish Republic bail-out may not end Europe's debt crisis.
Bank moves
Earlier this month, China's central bank raised the amount of money that lenders must keep in reserve, as it moved to try to control the country's high inflation rate. Those rules came into effect on Monday.
Last Updated at 17:37 GMT
| Market index | Current value | Trend | Variation | % variation |
| --- | --- | --- | --- | --- |
| Dow Jones | 21987.56 | Up | 39.46 | 0.18% |
| Nasdaq | 6435.33 | Up | 6.67 | 0.10% |
| FTSE 100 | 7411.47 | Down | -27.03 | -0.36% |
| Dax | 12102.21 | Down | -40.43 | -0.33% |
| Cac 40 | 5103.97 | Down | -19.29 | -0.38% |
| BBC Global 30 | 10267.63 | Up | 14.03 | 0.14% |
It was the fifth time this year that the central bank had made such a move, and came after Chinese inflation hit a two-year high of 4.4%.
But Zhong Jiyin, an economist with the Chinese Academy of Social Sciences, writing in the China Daily said recent increases in banks' reserve requirement ratio would not be enough to reverse excessive liquidity.
Writing in the China Daily, he said that the government needed to raise interest rates by another 200 basis points (two percentage points) to try to curb inflation.
The Japan's Nikkei share index ended Tuesday down 188.95 points at 9,937.04, after touching a five-month closing high of 10,125.99 on Monday.
Elsewhere in Asia. the Australian S&P/ASX200 index shed 0.7% to 4,587.10.
Benchmark indexes in India, Singapore, Indonesia, Thailand and the Philippines were also lower, although South Korea's Kospi index was up 0.3% to 1,901.64.
On Monday in the US, the Dow Jones index had closed down 39.51 points, or 0.36%, at 11,052.49.
'Contain inflation'
Rising prices in China are, at present, mainly restricted to food.
But analysts think price pressures could spread to other areas, unless China increases interest rates and tightens credit to deal with inflation.
"There is a little nervousness about how hard the policymakers will have to slam on the brakes to contain inflation," said David Cohen, an economist with Action Economics in Singapore.
And Alfred Chan, chief dealer at Pearl Investment in Singapore, said: "Investors are dumping shares because they are afraid of rate increases down the road.
"Banks are not going to be lending money as liberally as they wish because the government has capped lending for next year."