India maintains high growth rate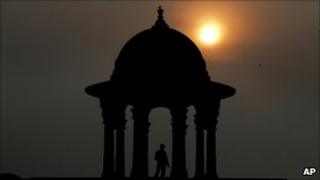 India's economy grew faster than expected in the second quarter of its financial year, figures show.
In the three months to September, gross domestic product (GDP) was up 8.9% from the same period last year.
However, inflation remains a real concern for authorities with new figures showing prices rising by 9.7% in October.
Although only the world's 11th biggest economy, India is the second fastest-growing major economy, behind China.
Strong farm production, increased vehicle sales and growing bank lending helped to boost the growth rate, India's statistics agency said.
There was a 9.8% jump in manufacturing from a year before, and an 8.8% increase in construction, while farming output was up 4.4%.
Meanwhile, the growth rate for the first quarter was revised upwards to 8.9% from 8.8%.
Inflation worries
But the rapid economic growth has also led to pick up in prices, with India's Consumer Price Index for October up 9.7% from a year earlier.
That was a slightly slower rate than September, according to the statistics agency, but it was still the second fastest rate of inflation in the G20 nations after Argentina.
Some analysts believe that the latest strong growth figures could lead the central bank to take more action to try to cool inflation.
Interest rates have been raised six times since the start of the year and the Reserve Bank of India has said bringing down inflation remains a priority.
On Tuesday, Finance Minister Pranab Mukherjee said India could achieve GDP growth of between 8.5% and 8.75% in the current financial year, which ends in March 2011.
Strong growth figures have helped ease concerns over India's fiscal deficit, which stood at 1.62 trillion rupees ($35.3bn; £22.7bn) for the April-to-October period.
This is 42.6% of the country's full-year target of 3.81tn rupees.