Euro rises as ECB confirms bond buying will continue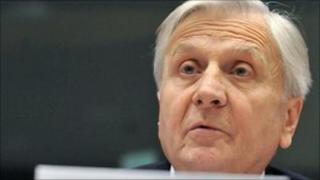 The European Central Bank helped calm nervous markets after promising to support banks with further liquidity well into next year.
But bank chief Jean-Claude Trichet did not, as rumoured, announce a mass purchase of government bonds.
He said the process was ongoing, and on Thursday the ECB bought more Portuguese and Irish bonds, which boosted the euro and cut borrowing costs.
He said bond purchases would remain "commensurate" with market conditions.
The ECB had promised unlimited liquidity for struggling banks, but the markets had feared Mr Trichet was about to phase out the measure.
However, at a press conference in Frankfurt, Mr Trichet said a phase-out would send the wrong signal, and that the liquidity operations would remain at least until next March.
This news offset disappointment that Mr Trichet did not guarantee to extend the bond purchase programme.
And markets appeared reassured that the bank would, nevertheless, act if necessary.
The euro was up to $1.3217 from its earlier low of $1.3059, helped by the Portuguese and Irish bond purchases.
And the main share indexes were also higher, with Germany's Dax closing up 1.3%, France's Cac up 2.1%, and the UK's FTSE 100 advancing 2.2%.
Bond markets also welcomed the ECB's update, with the yield on 10-year Irish Republic bonds falling from 8.9% to 8.6%, while that on 10-year Spanish bonds declined from 5.16% to 5.14%.
Government bonds are effectively loans, made by investors to countries. The lower their yield, the more confidence investors have in them.
So far the ECB has spent 67bn euros (£56bn; $88bn) on purchasing government bonds, as it tries to support eurozone nations with high debt levels.
Mr Trichet told a press conference in Frankfurt that the ECB's buying of government bonds - formally known as the Securities Market Programme - "is ongoing, I repeat ongoing".
The value of the euro had dropped at first on disappointment that the ECB did not announce an acceleration in the pace of bond buying, but the currency recovered later.
Earlier on Thursday, the ECB had kept eurozone interest rates at 1% for the 19th month in succession, a decision that had been widely-expected.
Spanish sale
Spain's government carried out a bond auction on Thursday, raising 2.47bn euros from the sale of three-year bonds.
Last Updated at 05:13 GMT
| Market index | Current value | Trend | Variation | % variation |
| --- | --- | --- | --- | --- |
| Dow Jones | 24682.31 | Down | -44.96 | -0.18% |
| Nasdaq | 7345.29 | Down | -19.02 | -0.26% |
| FTSE 100 | 7038.97 | Down | -22.30 | -0.32% |
| Dax | 12309.15 | Up | 1.82 | 0.01% |
| Cac 40 | 5239.74 | Down | -12.69 | -0.24% |
| BBC Global 30 | 9800.01 | Down | -36.19 | -0.37% |
However, like Portugal's bond auction on Wednesday, Spain had to increase the yield on offer, in this case to 3.7% from 2.5% in its previous auction in October.
While some market concerns about Spain's public finances persist, the main eurozone debt fears are focused on Portugal.
The Portuguese Prime Minister, Jose Socrates, has insisted that the country does not need to follow the Irish Republic and Greece and take a European Union-led bail-out.
In Portugal's auction of one-year bonds on Wednesday, it had to offer a yield of 5.3%, up from 4.8% for the previous release.
Elsewhere on Thursday, official figures confirmed that the eurozone economy expanded 0.4% between July and September, the same level as the first estimate.
This was a slowdown on the 1% expansion seen across the 16 nations that share the eurozone in April to June.