Fraud warning after hit-list uncovered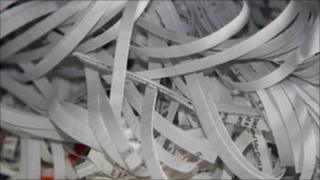 Some 49,000 people are being told they are at risk of being targeted by fraudsters after their names were discovered on a hit-list.
The names were on a master list used by boiler room fraudsters who try to sell worthless shares.
It mainly featured people living in London, Scotland and the south-east of England - all of whom will now receive warning letters from the City watchdog.
Four lists have been found this year by the Financial Services Authority (FSA).
"This latest list is the biggest we have ever recovered and we are contacting every single person on it in the hope we can stop people losing money," said Margaret Cole, the FSA's managing director of enforcement and financial crime.
"Even if only one in 10 we contact heed our warning it could mean around £96m is not invested in these scams.
"Boiler room fraudsters often sound like the real deal so it is easy to be drawn in by their professional and high pressure sales tactics. In reality however, the shares are worthless or do not exist and the money is lost forever."
The scam, which costs the UK an estimated £200m a year, sees fraudsters call potential investors and put them under pressure to buy non-tradable, overpriced or non-existent shares.