UK service sector fall 'concerning'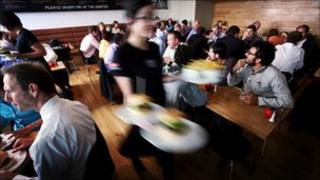 Analysts have expressed "concern" over the state of the UK service sector, after a survey suggested it shrank for the first time in 20 months in December.
The Markit/CIPS Purchasing Managers' Index (PMI) slipped to 49.7 in December from 53 in November. A reading below 50 indicates contraction.
The report said that snow and bad weather had played a part.
Overall, the economy stagnated in December, the report added.
Hotels, restaurants and caterers were among the service industries to suffer most last month, the report said.
'Wilted'
The data contrasts sharply with PMI figures for the manufacturing sector, out earlier this week, which indicated it had enjoyed the strongest growth in 16 years in December.
"There is a strong indication that UK economic growth is completely reliant upon export sales while domestic demand has wilted," said Markit's chief economist, Chris Williamson.
"Bad weather undoubtedly hit service sector business in December, but there are also clear signs that domestic demand has weakened as households and business continued to rein in their spending."
He added that the service data, plus a fall in construction PMI, was "a warning that manufacturing alone is unable to sustain the economic recovery".
The data "posed a genuine cause for concern" according to Nida Ali, economic adviser to the Ernst & Young ITEM Club.
"Temporary factors such as poor weather conditions may well be the reason for such a drastic fall.
"However, underlying trends such as a fall in employment for the third consecutive month imply that the services sector overall remains weak," she said.
CIPS' chief executive officer, David Noble, added that firms were seeing their profits squeezed by higher inflation at the same time as demand was slipping as consumers - from individuals to the public sector - fell away.
"It was a gloomy end to the year in the UK services sector," Mr Noble said.
"Fiscal tightening will continue to be a big theme in the coming year, particularly for companies reliant on the domestic market such as hotels, caterers and restaurants which also suffered the most in the winter chill," he said.
A number of retailers, including Next, HMV, Mothercare and Clinton Cards have reported weak Christmas sales - all saying the snow and poor weather had played a part.