Terra Firma challenges EMI court ruling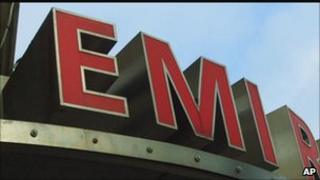 Private equity firm Terra Firma is challenging a US court ruling which said it was not tricked into paying an inflated price for music group EMI.
It comes after a jury ruled in November that investment bank Citigroup did not mislead Terra Firma when it bought EMI for £4.2bn ($6.7bn) in 2007.
Terra Firma said its lawyers had now "filed a notice of appeal in the litigation against Citigroup".
A US Court of Appeals will now have to decide if the appeal can go ahead.
Terra Firma added: "The appeal will challenge legal rulings made by the court in the litigation."
Terra Firma, led by Guy Hands, bought EMI for 2007, shortly before the global financial crisis sent the global economy into recession.
Guy Hands had argued that Citigroup had wrongly led him to believe other parties were interested in EMI, therefore pushing up the price Terra Firma offered, but the jury in New York rejected this.
Citigroup provided Terra Firma with £2.6bn in loans to help finance its takeover of EMI.
Some analysts suggest Terra Firma may ultimately have to hand over ownership of EMI to the bank as a result of not being able to keep up its interest payments.