BAA says December's cold weather cost it £24m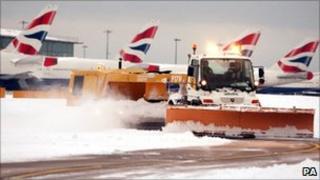 The severe weather in December cost UK airports operator BAA £24m, the company has said.
Many thousands of air passengers were affected in December as Heathrow and other airports closed temporarily.
BAA said it had handled 7.2 million passengers at its six UK airports in December, down 10.9% from a year ago.
Separately, airline Flybe said the disruption caused by the snow, which led to the cancellation of almost 2,000 of its flights, would cost it £6m.
Earlier this week, Virgin Atlantic said it was withholding the fees it pays to BAA because of its "slow reaction" to the heavy snow.
Revenue impact
BAA said the drop in passenger traffic in December was almost entirely due to the severe weather.
Passenger numbers were down 9.5% at Heathrow, BAA's largest airport, but all the firm's airports saw steep falls in traffic, with user numbers at Southampton airport down 22% and Edinburgh down 18.4%.
Of the £24m hit from the snow, £19m was accounted for by Heathrow.
The cost was caused by lower revenues as well as higher expenses, particularly in supporting delayed passengers, BAA said.
'Unacceptable conditions'
BAA's chief executive, Colin Matthew, apologised for the disruption caused by the bad weather.
"We are sorry for the flights that had to be cancelled as a result of the snow," he said.
"The cost of any disruption to BAA's airports is significant and a strong financial incentive for us to continue to make Heathrow more resilient."
Just before Christmas, Mr Matthew announced an inquiry to establish the lessons that could be learned from the disruption. It is due to be published on 11 March.
He also said he would not take his bonus for 2010 because of the "unacceptable conditions for passengers" during the disruptions.
For the year as a whole, BAA said it had handled 103.9 million passengers, down 2.8% from 2009.
However, BAA said that excluding the impact of the severe weather, and the disruption caused by the Icelandic volcanic ash cloud in April and May last year, it estimated passenger numbers would have risen 0.6% in 2010.
It added that Heathrow was recovering quickly from the "recessionary trough" of 2009, with record passenger numbers from July to November.