Tesco's Christmas sales 'hindered' by winter weather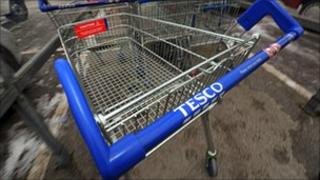 Supermarket giant Tesco has reported modest UK sales growth over Christmas, saying it had been "hindered" by the severe winter weather.
Like-for-like sales excluding petrol, which strip out the effect of sales from new stores, rose 0.6% in the six weeks to 8 January from a year earlier.
Non-food sales had been "subdued" as snow and ice disrupted customers travelling to larger stores, it said.
The results follow strong figures from rivals Sainsbury's and Morrisons.
Shares in the company were down 2.5% in early trading.
"Compared to its peers and the high expectations which the company carries, Tesco has fallen short today, as reflected by the share price drop in early trade," said Richard Hunter, head of UK equities at Hargreaves Lansdown Stockbrokers.
"Anaemic sales growth within its core UK market is a disappointment, particularly given the fact that the severe weather conditions actually provided a positive opportunity for the likes of Sainsbury. This comparative weakness has been seized upon by investors, which is a testament to the outperformance which the market demands from Tesco".
'Solid' performance
The firm reported strong like-for-like sales of food in the UK, while its online business, Tesco Direct saw sales grow by 18%.
And there was continued growth overseas, with total international sales over the six-week period up by 14.2%. Sales rose by 24.2% in Asia, driven especially by Thailand and China.
In the US, total sales climbed by 36.9% at its Fresh & Easy convenience store business.
"Our performance remains solid but was hindered in the run up to the important Christmas trading period in the UK by the disruptive effects of the severe winter weather conditions," chief executive Sir Terry Leahy said.