China's property prices still increasing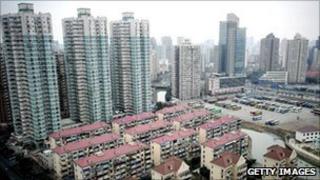 China's property prices rose again in December, but at their slowest annual pace in over a year.
House prices rose 0.3% in December, meaning the price of a home was 6.4% higher than a year ago, according to the National Bureau of Statistics.
Meanwhile Shanghai's mayor confirmed that his city would introduce a property tax this year.
The new tax is part of a broad set of measures by the authorities aimed at stemming a possible property bubble.
Cooling measures
Mayor Han Zheng said the city was preparing for "the trial reform on property tax, as required by the central government".
The finance ministry has already approved property tax plans in another Chinese city - Chongqing in the southwest.
Other recent measures to cool the housing market include the raising of the minimum cash component of purchases to 30%.
On Friday night, the central bank raised reserve requirements on banks for the fourth time in two months, because of its concerns about rising asset prices and inflation.
The decision triggered a 5% drop in share prices for Chinese property companies when markets reopened on Monday
Banks are also expected to phase out mortgage discounts this year in order to improve profit margins after the central bank raised interest rates in recent months.
But despite the measures, both property prices and the volume of sales were still up again in December, according to the National Bureau of Statistics' data release.
Prices rose for the fourth month in a row in December, although the annual price rise - compared with the same month a year earlier - was almost half the peak rate of 12.8% reached in April.
Total sales for 2010 were 10.1% higher than a year ago, at 1.04bn square metres, with data suggesting the rate of sales accelerated in December.